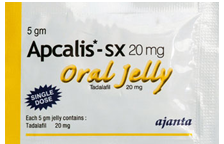 Description
Apcalis Jelly is an innovative medicine that is specifically designed to treat a common male sexual disorder – Erectile Dysfunction (ED) or Impotency. It is actually the generic version of Cialis that is available in the form of jelly, which is easy to consume. Apcalis Jelly relaxes the muscles and increases the blood flow in the penile shaft by acting on a specific enzyme. This medicine melts the moment it is kept underneath the tongue and leaves a pleasant taste to enhance the sensual mood, because it is manufactured in various flavors, such as mango, pineapple, banana, orange, mint, chocolate and vanilla.
Generic Name

Tadalafil

Strength(s)

20 mg

Delivery

25 days

Brand Name

Cialis

Expiry Date

2023

Shipping

Worldwide
Quantity
New Customer
Returning Customer
Shipping
Add To Cart
(20 mg)
Price
Unit Price
Price
Unit Price
10 Pills
$107.00
$96.00
30 Pills
$249.00
$224.00
60 Pills
$389.00
$350.00
90 Pills
$489.00
$440.00
120 Pills
$529.00
$476.00
350 Pills
$1,399.00
$1,259.00
500 Pills
$1,899.00
$1,709.00
IMPORTANT FEATURES
Apcalis Jelly is an effective and safe generic ED drug.
It is helpful for those men who face difficulty in gulping down tablet.
It acts within minutes after oral consumption and lasts long.
Apcalis Jelly is available at an amazingly competitive price.
DRUG MECHANISM
Penile erection is a process that takes place when the brain, after sexual stimulation, sends signals to the reproductive system through certain neurotransmitters that help increase the blood flow. This process is greatly hampered in ED. Apcalis Jelly contains Tadalafil as an active component, which is a selective and reversible PDE5-inhibitor. After taking Apcalis Jelly medicine, the enzyme PDE5 is inhibited and the body further increases the levels of cyclic Guanosine Monophosphate and Nitric Oxide. These chemicals enhance the blood flow by dilating the narrowed arteries and relaxing the muscles, in order to initiate an erection process.
USAGE GUIDELINES
Use Apcalis Jelly medicine only after seeking a medical help.
Read the directions provided on the prescription label and implement them while using it.
Usually, a sachet of Apcalis Jelly contains 20 mg Tadalafil, which is an ideal dose for men with impotency issue.
The dose of this medicine is ought to be taken 30 minutes before planning the sexual activity.
The most important part is that the drug is meant to be taken only once in duration of 24 hours.
You can take the dose with or without food.
Keep this medicine in a safe and secured place, and away from direct moisture or heat.
EFFICACY
Apcalis Jelly is quite effective in managing the symptom of ED i.e. chronic feeble erection. Approximately 95% of men with erectile disorder experienced the beneficial effects of this medicinal drug. The overall efficacy of Apcalis Jelly remains up to 36 hours. In few cases, men may not achieve its desired effects. Perhaps, the reason being the underlying medical causes. They may also require some adjustments in dosage to reap the benefits of the drug.
ADVERSE EFFECTS
Nausea
Headache
Nausea
Headache
Dizziness
Queasiness
Blurry vision
Skin rashes
Hot flashes
Chest pain
Breathlessness

These are few probable side effects of Apcalis Jelly, which may or may not be experienced by men. If at all they occur and persist, call the doctor immediately to receive emergency medical attention.
PRECAUTIONARY MEASURES
Apcalis Jelly is not designed for women and children, so keep it away from them.
For desired effects and proper assimilation of drug, make sure you avoid alcohol and fatty foodstuffs with the dosage.
You should not consume grapefruits before or after the dosage, because they may produce unwanted drug reactions if taken with Tadalafil.
Mild dizziness is inevitable while under the influence of Apcalis Jelly, so make sure you stay indoors soon after taking the medicine.
If you are taking nitrates and alpha-blockers, do not use this generic ED drug, because they are not compatible with this anti-impotent medicine
Medical complications are expected if you overdose with this medicine, so maintain a gap of 24 hours between two doses
ESSENTIAL INFORMATION
Before planning to use Apcalis Jelly, ensure you doctor is aware about the medical related issues you are going through. This will help you avert health complications and drug interactions. So if you are having the below-mentioned issues, tell your doctor.

History of liver or kidney ailments, asthma, seizures, stroke and heart attack, leukemia, etc.
Taking therapeutic agents like nitrates, antidepressants, high blood pressure medicines, sedatives or any other drugs.
Allergic to Tadalafil or any other medications.
DRUG INTERACTIONS
Like every synthetic medicine, Apcalis Jelly too acts with other therapeutic agents and gives rise to unwanted symptoms. Drugs that are known to hamper the efficacy of this anti-impotent medicine are antibiotics, antifungals, antivirals, prostate medicines, tranquilizers, nitrates and other PDE5-inhibitors.
Contraindications
Apcalis Jelly is contraindicated in men who have prolonged medical issues such as liver/kidney disease, and who are sensitive to Tadalafil.
Auxiliary Treatment
There is no doubt in the pharmacological action of Apcalis Jelly in increasing the blood flow in the penile organ. But the main underlying cause of ED should be corrected with effective oral medications by talking with the doctor. In the meantime, it is recommended to follow the healthy lifestyle habits and get rid of smoking and alcoholism. Psychotherapy and Kegel exercise are found helpful in overcoming ED in association with Apcalis Jelly generic medicine.