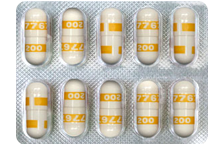 Description
Generic Celebrex is an effective medicine that is prescribed mainly for managing pain in joints and muscles. This painkiller is commonly used for treating inflammatory rheumatic disorders such as rheumatoid arthritis, osteoarthritis, bursitis and tendinitis, and ankylosing spondylitis. It is also recommended in females for pain in abdomen and back during menstruation. Generic Celebrex is a medicine with an active drug composition of Celecoxib, a non-steroidal anti-inflammatory drug (NSAID). By eradicating pain in joints and muscles, this NSAID improves overall flexibility and mobility in joints. Celecoxib is one of the most popular medications people rely on to get instant relief.
Generic Name

Celecoxib

Strength(s)

100 / 200 mg

Delivery

25 days

Brand Name

Celebrex

Expiry Date

2023

Shipping

Worldwide
Quantity
New Customer
Returning Customer
Shipping
Add To Cart
(100 mg)
Price
Unit Price
Price
Unit Price
20 Pills
$75.00
$68.00
50 Pills
$125.00
$113.00
70 Pills
$169.00
$152.00
100 Pills
$225.00
$203.00
120 Pills
$235.00
$212.00
150 Pills
$265.00
$239.00
200 Pills
$319.00
$287.00
300 Pills
$425.00
$383.00
500 Pills
$599.00
$539.00
Quantity
New Customer
Returning Customer
Shipping
Add To Cart
(200 mg)
Price
Unit Price
Price
Unit Price
20 Pills
$89.00
$80.00
50 Pills
$189.00
$170.00
70 Pills
$249.00
$224.00
100 Pills
$319.00
$287.00
120 Pills
$359.00
$323.00
150 Pills
$399.00
$359.00
200 Pills
$479.00
$431.00
300 Pills
$549.00
$494.00
500 Pills
$799.00
$719.00
IMPORTANT FEATURES
Generic Celebrex is a recognized medicine for pain management.
It provides instant and long-term relief from pain, stiffness and swelling.
This pain reducer is quite safe and effective as compared to other NSAIDs.
Generic Celebrex is available at a surprisingly cheaper rate.
DRUG MECHANISM
Generic Celebrex (Celecoxib) is a non-steroidal anti-inflammatory drug that have analgesic, anti-inflammatory and anti-pyretic properties. This medicine primarily inhibits the enzyme cyclooxygenase-2 (COX-2), which further stops the production or synthesis of prostaglandin in the body. Prostaglandin is the main culprit, as it is responsible for pain and inflammation. By reducing prostaglandin, this drug brings down the inflammation, thereby reducing the pain, stiffness, tenderness and swelling.
USAGE GUIDELINES
Use Generic Celebrex as recommended by your medical advisor.
Do not take lesser or greater amounts of medicine for longer duration than prescribed.
Carefully go through the prescription label and follow them accurately.
Take the tablet orally with a glass of water, without breaking or crushing the pill.
You can take Generic Celebrex with milk or food to prevent gastric irritation.
See your physician regularly during treatment if you tend to use it for longer period.
Store this pain reducer at room temperature, and away from heat or moisture.
EFFICACY
The clinical studies have shown that Celecoxib improves the symptoms of rheumatic conditions significantly following the oral administration for roughly six weeks. In fact, Generic Celebrex medicine is found more effective than other NSAIDs.
ADVERSE EFFECTS
Stomach upset
Gaseous distension
Diarrhea
Dizziness
Headache
Nervousness
Stuffy nose
Sore throat
Mild skin rash

These are few common side effects of Generic Celebrex, which often diminish after some time. However, one may experience other side effects as well. In severe cases, call the doctor right away to get medical attention.
PRECAUTIONARY MEASURES
Never give Generic Celebrex to children without doctor's recommendation.
In case if you skip or miss the dose, make sure you take it as soon as you recollect, but do not take two doses at a time.
Overdose can produce unwanted drug reactions, so use the drug appropriately.
Avoid alcoholic beverages during the course of therapy, as they may hamper the drug effectiveness.
Prolonged use of Generic Celebrex can affect your blood circulation, so keep in touch with the physician while using it.
ESSENTIAL INFORMATION
Generic Celebrex (Celecoxib) should be used after informing vital details to your doctor, such as –

Medical history of cardiovascular disease, liver/kidney disease, gastrointestinal diseases, asthma, epilepsy, or any other chronic medical issue.
Allergic to other NSAIDs, sulfa drugs, aspirin, etc.
Undergoing treatment with other medications
Pregnancy or breast-feeding

It is mandatory to consult the doctor in case of pregnancy or breast-feeding, because Generic Celebrex may harm the fetus or newborn.
DRUG INTERACTIONS
Generic Celebrex is known to interact with other synthetic medications. Hence, it is highly recommended to inform your doctor about the medications you are taking. Following are the medicines that may interact with this NSAID –

Warfarin (blood thinner)
Furosemide (diuretic)
Fluconazole (antifungal)
High blood pressure medicines
Antidepressants
CONTRAINDICATIONS
Generic Celebrex is contraindicated in patients with following issues –

Allergic to Aspirin, Celecoxib, other NSAID and sulfa drugs
Medical history of asthma, intestinal bleeding, and urticaria
Pre-operative or post-operative CABG (coronary artery bypass graft)
Auxiliary Treatment
In association with Generic Celebrex, one can apply hot fomentation and NSAID ointments over the affected part to enhance recovery. However, it is imperative to seek medical advice before applying any local applications.