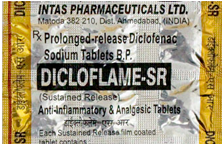 Description
Dicloflame SR is an effective oral painkiller medicine that brings down the level of a substance that is responsible for inflammation. It is often indicated for people with medical conditions such as rheumatoid arthritis, osteoarthritis, ankylosing spondylitis, tendinitis and bursitis, and mechanical trauma to joints or muscles. It is also used in reducing pain and discomfort in back and abdominal during menstruation. In addition, it helps reduce pain in head in case of migraine. Diclofame SR is available in sustained-release tablets, which are easy to consume and acts promptly. Diclofenac is the active ingredient of this generic medicine, which is pharmacologically known as non-steroidal anti-inflammatory drug (NSAID).
Generic Name

Diclofenac Sodium

Strength(s)

10 mg

Delivery

25 days

Brand Name

Voltaren

Expiry Date

2023

Shipping

Worldwide
SORRY! This Item Is Temporarily
OUT OF STOCK
IMPORTANT FEATURES
Dicloflame SR is one of the most effective and safe painkillers.
It acts promptly and provides instant relief from inflammation and pain.
By wiping out pain, it improves overall mobility and flexibility in all joints.
Dicloflame SR tablets are available easily at pocket-friendly rates.
DRUG MECHANISM
Pain is one of the signs of inflammation, which is experienced when your body releases too much of prostaglandin. Hence, it is important to stop the body from secreting prostaglandin, in order to get rid of pain and discomfort. Dicloflame SR (Diclofenac) inhibits an enzyme called as cyclooxygenase (COX). Reduction in level of COX allows the body to stop the production of prostaglandin. This action mechanism brings down inflammation, thereby eliminating its signs, such as pain, stiffness, redness, swelling and tenderness.
USAGE GUIDELINES
It is better to use Dicloflame SR as per the instructions provided on the prescription label.
Go through and follow all the instructions carefully for safe and appropriate use.
Never try to consume greater and lesser quantities of prescribed dose for longer duration than prescribed.
Typically, you may need to take 100 mg one time a day to subside pain; however, ask your doctor for appropriate dose.
Consume a sustained-released tablet orally with a glass full of water, without breaking, chewing or crushing.
If you do not notice any improvement, consult your physician for further treatment with this painkiller.
Store Dicloflame SR in a safe place, and away from direct heat or moisture.
Visit your physician during therapy, as you may need to undergo certain blood tests.
EFFICACY
The efficacy of Dicloflame SR (Diclofenac) is quite great. It is effective than other painkillers, especially when it comes to manage osteoarthritis and rheumatoid arthritis. According to clinical surveys, this NSAID continues to be one of the most preferred pharmacological therapies for rheumatic diseases.
ADVERSE EFFECTS
Nausea or vomiting
Heartburn
Abdominal distension
Diarrhea
Headache
Drowsiness
Increased sweating
Mild swelling in legs or arms

The above mentioned symptoms are common side effects of Dicloflame SR; however, you may experience other unwanted symptoms as well. If they trouble you, consult your physician for immediate medical attention.
PRECAUTIONARY MEASURES
Do not give Dicloflame SR tablets to children unless your doctor advises.
Avoid alcoholic beverages during treatment; otherwise, you may suffer from intestinal bleeding.
Never exceed the prescribed dose, as overdose is linked with severe adverse drug reactions.
Take Dicloflame SR dose as soon as you remember in case of missed or skipped dose, but never take two doses at a time.
Keep proper gap between doses to avert unpleasant side effects.
ESSENTIAL INFORMATION
Dicloflame SR tablets should be used only after talking with your medical practitioner.
To ensure it is safe for you, inform your medical advisor about certain health issues (if any), such as –

Heart disease
High blood pressure level
Peptic ulcers
Mild intestinal bleeding
Liver or kidney disease
Asthma
Undergoing treatments
Allergic to any medicine

This NSAID, if taken during pregnancy, can harm the fetus, so be cautious and inform your doctor prior to using it.
Similarly, if you are breastfeeding, have a word with your doctor before using Dicloflame SR.
DRUG INTERACTIONS
Therapeutic drugs that interact badly with Dicloflame SR tablets, such as –

Antidepressants (SSRIs)
Blood thinner (warfarin)
Steroidal drugs
Other NSAIDs
Contraindications
Dicloflame SR is not indicated for patients with following health issues –

Diclofenac allergy
History of asthma, skin rashes or heart disease
Chronic liver or kidney dysfunction
Auxiliary Treatment
In association with Dicloflame SR, your doctor may recommend you to apply topical liniments or ointments that contain anti-inflammatory drugs, and hot fomentation for quick recovery. Once your pain reduces, you can perform mild to moderate physiotherapy exercises to get rid of stiffness and immobility.