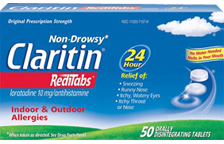 Description
Generic Claritin is an oral medicine that is primarily prescribed for eradicating allergic ailments, such as allergic rhinitis and chronic urticaria. It helps reduce allergic symptoms like runny and stuffy nose, constant sneezing, nasal congestion, hay fever, watery eyes, and skin rashes with intense burning, itching and redness. Generic Claritin is one of the best curative remedies for seasonal allergies. It acts by inhibiting a chemical, histamine, which is responsible for producing allergic reactions. The active ingredient present in this generic medicine is Loratadine, an FDA-approved antihistamine drug.
Generic Name

Loratadine

Strength(s)

100 mg

Delivery

25 days

Brand Name

Claritin

Expiry Date

2023

Shipping

Worldwide
Quantity
New Customer
Returning Customer
Shipping
Add To Cart
(100 mg)
Price
Unit Price
Price
Unit Price
8 Pills
$48.00
$43.00
16 Pills
$76.00
$68.00
32 Pills
$96.00
$86.00
48 Pills
$126.00
$113.00
60 Pills
$154.00
$139.00
72 Pills
$170.00
$153.00
100 Pills
$189.00
$170.00
152 Pills
$271.00
$244.00
252 Pills
$444.00
$400.00
340 Pills
$569.00
$512.00
500 Pills
$789.00
$710.00
IMPORTANT FEATURES
Generic Claritin significantly decreases the symptoms of allergy, thereby giving relief from allergic rhinitis and urticaria.
It provides quick relief and help eliminate seasonal allergies as well.
It is safe and most preferred antihistamine as compared to others, because it has less influence in central nervous system.
Generic Claritin is available easily online at a very reasonable rate.
DRUG MECHANISM
Generic Claritin (Loratadine) is pharmacologically denoted as a second-generation antihistamine that acts on the peripheral nervous system. It actually negates the function of histamine receptors, ceasing the secretion of histamine in the body. Histamine is the main culprit in causing an allergic reaction. More the secretion of histamine, greater is the inflammation and intensity of allergic symptoms. By permitting the body to stop the secretion of histamine, Loratadine reduces inflammation and symptoms of allergic rhinitis and urticaria.
USAGE GUIDELINES
Using Generic Claritin after consulting medical professional is highly essential, especially for proper dosage and instructions.
Never take greater or lesser quantities of drug for longer period than recommended
Usually, the preferred dose of this antihistamine is 10 mg only once in 24 hours.
Doctors often prescribe the dose before retiring, because it produces mild dizziness.
Take Generic Claritin pill orally with water; do not crush, chew or break it, gulp the whole pill.
You should take the medicine for prescribed length of time.
Store the medicine is a cool, dry place, and don't allow it to come in contact with direct heat or sunlight.
EFFICACY
Generic Claritin (Loratadine), according to clinical studies, has great efficacy in treating seasonal allergic rhinitis and chronic urticaria symptoms by producing considerably less sedation. Hence, as compared to other antihistamines, Loratadine is preferred more.
ADVERSE EFFECTS
The less serious side effects of Generic Claritin second-generation antihistamine are –

Headache
Stomach pain
Nausea or vomiting
Dryness of mouth
Tired feeling
Mild dizziness
Nervousness
PRECAUTIONARY MEASURES
Generic Claritin is not recommended to children below two years.
You should not give this medicine to children above two years unless your doctor prescribes.
If you skip or miss your dosage, make sure you take it as soon as your remember, but never take two doses at time.
Headache, extreme drowsiness and uneven heartbeats are few common drug reactions that may occur after overdose, so be careful.
Refrain from consuming alcohol during treatment, as it will aggravate your condition.
More importantly, abstain from performing activities after Generic Claritin dosage as mild dizziness is quite commonly experienced.
ESSENTIAL INFORMATION
Prior to using Generic Claritin, ensure your safety by informing your doctor about following issues, if any –

History of asthma, liver or kidney ailments, and neurological symptoms.
Any medicinal allergies
Undergoing treatment with medications, supplements and herbal products

If you are pregnant or planning to conceive, ask your doctor whether to use Generic Claritin antihistamine or not.
More importantly, if you are nursing your baby, do not use it as the drug may harm the neonate through breast-feeding.
DRUG INTERACTIONS
Few therapeutic agents do not go well with this second-generation antihistamine when it comes to pharmacological action. So before using Generic Claritin, make sure you tell your doctor about undergoing treatment with prescription or OTC drugs, herbal products or supplements, multivitamins, and other medicaments.
Contraindications
Patients who are allergic to Hydroxyzine, and suffering from liver failure or severe kidney dysfunction should not use Generic Claritin antihistamine drug.
Auxiliary Treatment
Generic Claritin will definitely help manage the symptoms of allergic reactions. Concurrently, you can follow some natural ways that help boost your immune system. In addition, you should try to stay away from allergens (trigger factors) in order to prevent further allergies.