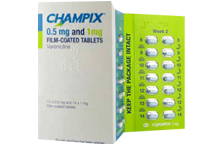 Description
Generic Champix is a safe and effective oral remedy recommended in people for smoking cessation. It helps one stop smoking by decreasing the longing for smoking. You may notice improvement within seven to 12 weeks of treatment. This medicine works better when a person undergoes psychological counseling and cognitive behavioral therapy. The active drug of Generic Champix is Varenicline tartrate, an FDA-approved drug prescribed to quit smoking.
Generic Name

Varenicline

Strength(s)

100 mg

Delivery

25 days

Brand Name

Champix

Expiry Date

2023

Shipping

Worldwide
Quantity
New Customer
Returning Customer
Shipping
Add To Cart
(100 mg)
Price
Unit Price
Price
Unit Price
8 Pills
$48.00
$43.00
16 Pills
$76.00
$68.00
32 Pills
$96.00
$86.00
48 Pills
$126.00
$113.00
60 Pills
$154.00
$139.00
72 Pills
$170.00
$153.00
100 Pills
$189.00
$170.00
152 Pills
$271.00
$244.00
252 Pills
$444.00
$400.00
340 Pills
$569.00
$512.00
500 Pills
$789.00
$710.00
IMPORTANT FEATURES
Generic Champix is a pharmacologically proven drug for smoking cessation.
It reduces the desire to smoke and other withdrawal effects.
It encourages smokers to kick the smoking habit within 12 weeks.
Generic Champix is easily obtainable at surprisingly cheaper rate.
DRUG MECHANISM
Generic Champix (Varenicline tartrate) is antagonist to certain receptors that are related to nicotinic acetylcholine. This action mechanism produces less effect on a neurotransmitter, dopamine, thereby maintaining its balance in the central nervous system. This eventually assists in lowering the urge to smoke. By allowing you to quit smoking, Generic Champix keeps your mind stress-free and fresh. Steadily, your smoking desire diminishes.
USAGE GUIDELINES
Take Generic Champix exactly as instructed by your medical practitioner.
Read all the directions and try to follow them for appropriate and apt use.
You may need change in dosages during treatment, so it is advisable to use it under the supervision of your doctor.
Do not take smaller or larger amounts for longer duration than recommended.
Start using this medicine a week before setting a date of smoking cessation.
Alternatively, you can start the medicine and choose a date of quitting.
Make sure you stick to your quitting date to get rid of withdrawal symptoms.
Consume the pill after food, with a glass of water.
It may take up to 12 weeks to notice the signs of improvement.
Use Generic Champix medicine regularly without skipping or missing to yield better results.
Keep this medicine in a dry, cool place, and away from direct heat or sunlight.
EFFICACY
Clinical studies have reported that chronic smokers who used Generic Champix with psychological counseling were able to quit smoking completely. Furthermore, the rate of smoking cessation was high in smokers who took higher potencies of this medicine.
ADVERSE EFFECTS
The adverse effects of Generic Champix are as follows –

Stomach upset
Nausea or Vomiting
Abdominal distention
Constipation
Strange dreams
Sleeping troubles
PRECAUTIONARY MEASURES
Generic Champix is not intended to use in children.
Take the missed dose as soon as you remember, but avoid taking two doses at a single time.
During the course of treatment, do not drink alcohol, as it may worsen your condition.
You may feel aggressive and agitated if you drink alcohol along with this medicine.
Stay away from physical activities that need your attention, because this anti-smoking pill impairs your thinking and reacting process.
Refrain from using other medications that aid smoking cessation if you are using Generic Champix.
ESSENTIAL INFORMATION
Before using Generic Champix medication, inform your physician regarding certain medical related problems, such as –

Liver or kidney disease
Cardiovascular disease
History of prolonged alcoholism
History of maniac depression or any other mental health illness

Also, discuss with doctor about undergoing therapies and therapeutic allergies.
In case of pregnancy and breast-feeding, do not use Generic Champix medicine without doctor's consent.
DRUG INTERACTIONS
Blood thinner like warfarin, asthma-relieving medicines, and insulin are few therapeutic agents that may interact adversely with Generic Champix. Therefore, it is essential to inform about the treatments you are undergoing before taking this anti-smoking remedy.
Contraindications
Generic Champix is contraindicated in cases of –

Chronic alcoholism
Depression
Severe cardiovascular disease
History of convulsions or stroke
Schizophrenia
Hypertensive to Varenicline
Auxiliary Treatment
Generic Champix will definitely help you quit smoking, but is necessary to adhere to the smoking-cessation plan. Psychological counseling and cognitive behavioral therapy in association with this medicine can help you largely. Furthermore, it is recommended to practice healthy lifestyle habits.