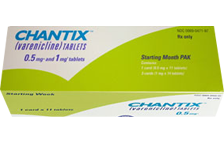 Description
Generic Chantix is one of the effective and safe therapeutic agents prescribed for smoking cessation. It helps decrease the craving for smoking and eventually aids in quitting smoking. One may experience beneficial changes within 12 weeks of therapy. In association with Generic Chantix, physicians advise cognitive behavioral therapy or counseling in order to get rid of smoking. Varenicline is the active ingredient present in this generic medicine, which is a clinically proven drug for smoking cessation.
Generic Name

Varenicline

Strength(s)

100 mg

Delivery

25 days

Brand Name

Chantix

Expiry Date

2023

Shipping

Worldwide
Quantity
New Customer
Returning Customer
Shipping
Add To Cart
(100 mg)
Price
Unit Price
Price
Unit Price
8 Pills
$48.00
$43.00
16 Pills
$76.00
$68.00
32 Pills
$96.00
$86.00
48 Pills
$126.00
$113.00
60 Pills
$154.00
$139.00
72 Pills
$170.00
$153.00
100 Pills
$189.00
$170.00
152 Pills
$271.00
$244.00
252 Pills
$444.00
$400.00
340 Pills
$569.00
$512.00
500 Pills
$789.00
$710.00
IMPORTANT FEATURES
Generic Chantix is a medically proven medicine for stopping the smoking addiction.
It reduces craving to smoke and its withdrawal effects.
It promotes smokers to beat nicotine addiction within 12 weeks.
Generic Chantix is available online at amazingly cheaper rate.
DRUG MECHANISM
Generic Chantix (Varenicline) is antagonist to the receptors that are associated nicotinic acetylcholine. This produces less effect on dopamine, a neurotransmitter, thereafter regulating its balance in the brain. Eventually, this assists in reducing the urge to smoke. By allowing a person to quit smoking, Generic Chantix keeps his/her mind calm, stress-free and fresh. Gradually, the smoking desire fades away.
USAGE GUIDELINES
Use Generic Chantix exactly as directed by the medical professional.
Go through all the directions and follow them to use the drug appropriately.
Your doctor may alter dosage during treatment, so keep in touch with him/her for successful treatment.
Do not consume lesser or greater quantities for longer period than prescribed.
Initiate the treatment a week before you fix a date for quitting smoking.
Ensure you adhere to your date of quitting to overcome withdrawal symptoms.
Consume a whole pill after food with a glass of water for proper absorption.
It may take up to 7 to 12 weeks to experience the signs of improvement.
Make sure to use Generic Chantix medicine regularly without missing to yield satisfactory results.
Keep this anti-smoking medicine in a cool, dry place, and away from heat or sunlight.
EFFICACY
Clinical studies have revealed that heavily addicted smokers who used Generic Chantix in association with psychological counseling were successful in quit smoking completely. Moreover, the rate of success of smoking cessation was quite high in smokers who used higher potencies.
ADVERSE EFFECTS
The side effects of Generic Chantix are as follows –

Stomach pain
Nausea
Vomiting
Gaseous distention
Constipation
Usual dreams
Sleeping issues
PRECAUTIONARY MEASURES
Generic Chantix should not be given to children.
In case of missed dose, it is advisable to take it as soon as you recollect. Avoid taking extra dose.
During the course of therapy, avoid alcohol, because this beverage can aggravate the condition.
If you consume alcohol with this medicine, you may feel agitated or aggressive.
Avoid physical activities that need alertness, because this anti-smoking pill can impair your normal thinking and reacting abilities.
Refrain from using other therapeutic drugs that aid smoking cessation if you are using Generic Chantix medicine.
ESSENTIAL INFORMATION
Prior to using Generic Chantix medication, tell your doctor about medical related problems (if any), such as –

Kidney or liver disease
Heart disease
History of chronic alcoholism
History of depressive disorders or any other psychological illness

Also, discuss with physician about undergoing treatment and medicinal allergies (if any).
Pregnant and breast-feeding mother should not use Generic Chantix medicine without doctor's recommendation.
DRUG INTERACTIONS
Certain medications like blood thinner (warfarin), asthma medications and insulin may interact in adverse manner with Generic Chantix. Therefore, it is imperative to inform about any treatments you are undergoing prior to taking this anti-smoking remedy.
Contraindications
Generic Chantix is contraindicated in cases of –

Chronic alcoholics
People with depression
Severe heart disease
History of stroke, seizures and heart attack
Schizophrenia
Allergic to Varenicline
Auxiliary Treatment
Generic Chantix will certainly help smoking cessation, but it is imperative to stick to your plan as well. In addition, it is recommended to follow healthy lifestyle habits.