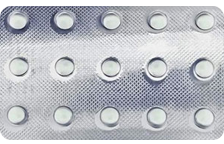 Description
Generic Atarax is an oral medicine that looks after managing the symptoms of allergic rhinitis and urticaria or skin allergy. It is indicated for reducing the symptoms such as runny nose, frequent sneezing, nasal obstruction, hives and contact dermatitis i.e. skin inflammation. It is actively composed of an anti-histaminic drug called as Hydroxyzine Hydrochloride. It reduces some activity in the nervous system and a chemical known as histamine. It is also used as a tranquilizer to manage anxiety. Generic Atarax can be used in association with other medicinal drugs for anesthesia.
Generic Name

Hydroxyzine

Strength(s)

10 / 25 mg

Delivery

25 days

Brand Name

Atarax

Expiry Date

2023

Shipping

Worldwide
Quantity
New Customer
Returning Customer
Shipping
Add To Cart
(10 mg)
Price
Unit Price
Price
Unit Price
20 Pills
$39.00
$35.00
50 Pills
$89.00
$80.00
70 Pills
$119.00
$107.00
100 Pills
$149.00
$134.00
120 Pills
$159.00
$143.00
150 Pills
$169.00
$152.00
200 Pills
$199.00
$179.00
300 Pills
$249.00
$224.00
500 Pills
$359.00
$323.00
Quantity
New Customer
Returning Customer
Shipping
Add To Cart
(25 mg)
Price
Unit Price
Price
Unit Price
20 Pills
$59.00
$53.00
50 Pills
$125.00
$113.00
70 Pills
$169.00
$152.00
100 Pills
$225.00
$203.00
120 Pills
$235.00
$212.00
150 Pills
$265.00
$239.00
200 Pills
$319.00
$287.00
300 Pills
$425.00
$383.00
500 Pills
$599.00
$539.00
IMPORTANT FEATURES
Generic Atarax is a safe and effective medicine for treating different types of allergies.
It acts really fast and provides instant relief from allergic symptoms.
It suppresses histamine that is responsible for allergic reaction.
Moreover, Generic Atarax is available easily at pocket-friendly price.
DRUG MECHANISM
When an allergic reaction takes place, the body automatically increases the secretion of histamine that is actually responsible for producing inflammation and allergic symptoms. Generic Atarax (Hydroxyzine Hydrochloride) is an antihistamine drug that acts by suppressing some activity in certain regions of central nervous system. It assists the body from ceasing the production of histamine. It is also known to have analgesic and bronchodilator properties that help reduce pain and nasal obstruction, respectively.
USAGE GUIDELINES
Use Generic Atarax exactly as prescribed by the medical professional.
Never try to take more or less amount of prescribed dose for longer duration.
Read and follow all the directions properly and employ accordingly.
Take the pill with a full glass of water without breaking or crushing it.
Maintain proper gaps between doses of Generic Atarax to stay away from overdose and its complications.
Keep this antihistamine drug at room temperature, and away from direct moisture or heat.
EFFICACY
According to clinical studies and trials, Generic Atarax (Hydroxyzine) showed both safety and efficacy in the treatment of allergic rhinitis and skin rashes (urticaria). It is also found to be effective in lowering the symptoms of anxiety.
ADVERSE EFFECTS
The less serious side effects of Generic Atarax are as follows –

Drowsiness
Dizziness
Blurred vision
Headache
Dry mouth

Stop taking Generic Atarax and immediately call your doctor if you experience following side effects

Tremor
Seizure
Confusion
Restlessness
PRECAUTIONARY MEASURES
Never give Generic Atarax to children unless the doctor recommends.
If you miss your dose, take it as soon as you recollect, but never take two doses at a time. Skip the miss dose if your next is scheduled.
Overdose is associated with symptoms like nausea, vomiting, drowsiness, sleepiness and confusion.
Avoid alcohol as it can increase the drug reactions of Generic Atarax, especially drowsiness.
This antihistamine has the ability to impair your thinking and reaction process, so be careful and avoid activities that require alertness after dosage.
ESSENTIAL INFORMATION
Do not use this antihistamine if you are allergic to Hydroxyzine.
For safe and appropriate usage of Generic Atarax, make sure you inform your doctor about following health issues (if any) –

History of epilepsy or convulsions
Bronchial asthma
Emphysema
Heart or brain disorder
Thyroid issues
Glaucoma
Benign enlargement of prostate
Liver or kidney dysfunction

Inform about the undergoing treatment before using Generic Atarax.
Do not use Generic Atarax in case of pregnancy and breast-feeding. It could prove harmful to the fetus and newborn.
Elder should take more care while using this medicine, as they are more susceptible to side effects.
DRUG INTERACTIONS
Certain medicinal drugs like narcotic painkillers, sleeping pills, antidepressant, muscle relaxants, allergy medications, tranquilizers, and drugs for epilepsy and anxiety are known to interact adversely with Generic Atarax. Hence, it is better to tell about medications to your doctor.
Contraindications
Generic Atarax is contraindicated in below-mentioned subjects –

Pregnant women
Nursing mothers
Chronic liver or kidney disease
Patients oversensitive to Hydroxyzine
Auxiliary Treatment
Undoubtedly, Generic Atarax will help reduce the symptoms of allergy. Meanwhile, you can find natural ways to strengthen your immunity. More importantly, try to stay away from triggers factors (allergens) that give rise to allergic reactions, such as dust, pollen, pet dander, pollutants, certain foods, cold (viruses), etc.