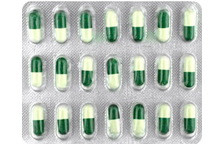 Description
Orlislim is a clinically proven medicine that is primarily prescribed for obese people to shed extra weight. It also lowers the risk of accumulating fat in the body after successful weight loss. It is meant only for adults who are actually overweight or obese. Orlislim is available as an over-the-counter drug in many countries; however, it is recommended to use after seeking medical advice. This anti-obesity medicine is actively composed of a medicinal drug known as Orlistat, which is approved by the FDA for losing weight. The drug helps the body to prevent fat absorption and accumulation by inhibiting a fat-absorbing enzyme
Generic Name

Orlistat

Strength(s)

60 mg

Delivery

25 days

Brand Name

Xenical

Expiry Date

2023

Shipping

Worldwide
SORRY! This Item Is Temporarily
OUT OF STOCK
IMPORTANT FEATURES
Orlislim is a popular medicine that helps lose extra fat in the body.
It curbs obesity without causing much adverse effects.
It also help maintain normal body mass index in order to keep you healthy.
Orlislim is easily available online at pocket-friendly price.
DRUG MECHANISM
Orlistat is the main ingredient of Orlislim that looks after eliminating unwanted fats from the body and maintaining normal body mass index. It does so by inhibiting a naturally secreting enzyme called as Lipase. Suppression of Lipase prevents your body from absorbing dietary fat from the meal. The unabsorbed fat passes along the gastrointestinal tract and evacuates through colon in the form of fecal matter. Eventually, your calories are reduced, providing positive effect on your BMI i.e. body mass index.
USAGE GUIDELINES
Take Orlislim medicine exactly as directed by your medical advisor for safe usage.
Read and follow all the instructions carefully and never try to take lesser or greater quantities of dose than recommended.
This anti-obesity medicine is meant to be taken thrice a day.
The usual dose for obese adults is 120 mg three times a day.
The pill should be taken with a glass full of water, with or an hour after food.
Do not take the medicine on empty stomach.
Adverse effects are bound to occur in people who use Orlislim haphazardly or irregularly.
Keep the medicine away from direct heat or sunlight.
EFFICACY
According to clinical studies, Orlislim has the potential to reduce unwanted weight, body mass index and abdominal fat, significantly. Also, it is considered one of the best and effective ways to curb obesity and its complications if used in association with healthy lifestyle. However, people who use Orlislim medicine experience oily and greasy stools with mild pain in abdomen.
ADVERSE EFFECTS
Fatty or greasy stools
Loose stools
Fecal urgency
Brown/orange colored stools
Increased bowel movements (diarrhea)
Mild anal pain
Stomach ache

These are common side effects of Orlislim. Oily or fatty stool is the unabsorbed fat that is eliminated through gastrointestinal system. If it is severe, call your doctor right away.
PRECAUTIONARY MEASURES
Orlislim will surely help you lose extra pounds, but you should not rely completely on it. Rather, you need to take care of your diet and perform physical activities.
You need to take multivitamin supplements with Orlistat treatment, because it also prevents assimilation of fat-soluble vitamins along with unwanted fat.
Never give this weight-losing medicine to obese people who have eating disorders such as binge eating and loss of appetite.
During the course of treatment, try to stay away from fatty foods, as they may worsen the side effect of the medicine i.e. greasy and oily stools.
Overdose with Orlislim can give rise to serious medical complications, so be cautious when it comes to dosage.
Never give tis therapeutic agent to children under 12 years.
Alcohol during treatment is a bad idea, so abstain from consuming it.
ESSENTIAL INFORMATION
Inform your medical practitioner about health problems (if any) before using Orlislim drug, such as –

Cholecystitis or Gallstones
Malabsorption syndrome
Kidney or liver troubles
Other gastrointestinal problems
Thyroid abnormalities
Type I or II diabetes
Binge eating or anorexia

Discuss about undergoing treatment (if any) beforehand.
Never use Orlislim during pregnancy and breastfeeding.
DRUG INTERACTIONS
Following medicinal drugs are known to interact adversely with Orlislim –

Diabetes medicines
Insulin
Epilepsy medicines
Herbal remedies
Blood thinner
Contraindications
Orlislim (Orlistat) is not indicated in people with –

Gallbladder stones or cholelithiasis
Malabsorption syndrome
Pregnancy
Breastfeeding
Hypersensitivity to Orlistat
Auxiliary Treatment
In association with Orlislim therapy, you need to eat healthy diet and perform daily exercise in order to get rid of obesity and its aftereffects.