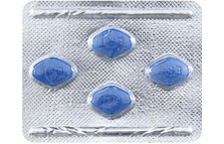 Description
Eriacta is a generic medicine that is indicated for managing the symptom of Impotency i.e. chronic weak erection. In Impotency, a man's penile organ lacks sufficient energy due to inadequate blood flow. The chief reason being the constriction of erectile arteries. Eriacta is the right choice of generic medicine for Impotency, as it has the potential to infuse remarkable strength in a man's penile organ by opening up the blood vessels so that the blood supply is enhanced. Eriacta is completely similarly to Viagra when it comes to pharmacological action and efficacy. Sildenafil Citrate is the active and main drug present in this effective generic medicine.
Generic Name

Sildenafil Citrate

Strength(s)

100 mg

Delivery

25 days

Brand Name

Viagra

Expiry Date

2023

Shipping

Worldwide
SORRY! This Item Is Temporarily
OUT OF STOCK
IMPORTANT FEATURES
Eriacta is a prevalent generic medicine for Impotency.
It works as same as its branded counterpart and works promptly.
It improves overall sexual performance by sustaining your erection for longer duration.
Eriacta is available online easily at pocket-friendly price.
DRUG MECHANISM
Eriacta contains Sildenafil Citrate that targets and negates the action of a specific enzyme called as phosphodiesterase type five (PDE5). Inhibition of PDE5 enzyme allows your body to increase the levels of blood-circulation-boosting compounds – Nitric Oxide and cyclic Guanosine Monophosphate. These compounds enhance the blood flow in your spongy erectile tissues to make your penile organ attain and sustain an erection for a longer duration.
USAGE GUIDELINES
It is recommended to use Eriacta only after seeking proper medical advice from your doctor.
Go through the directions carefully and follow them for safe and appropriate use.
Never consume more or less amount of dosage for longer duration than recommended.
Typically, Eriacta 100 mg is enough to encourage erection, which is ought to be taken only once in 24 hours.
The pill should be consumed only when required, nearly 45 minutes prior to sexual session.
Maintain a proper gap of 24 hours between two consecutive doses to evade overdose and its complications.
Store the medicine in a cool, dry place and away from direct sunlight and moisture.
EFFICACY
At least 95 percent of men with ED were happy with the effects of Eriacta (Sildenafil Citrate). However, few of them struggle to reap its beneficial effect; probably the reason could be the underlying health issue and other unknown causes.
ADVERSE EFFECTS
Nausea
Mild Headache
Lethargy
Hot flashes
Foggy vision
Mild chest pain
Skin rashes
Nasal congestion
Shortness of breath

If these side effects persist for longer duration, immediately call your medical advisor for timely healthcare assistance. Persistent use of Eriacta drug should be evaded, as a rare adverse effect known as Priapism (erection lasting for more than four hours) may affect your penile tissue.
PRECAUTIONARY MEASURES
Strictly keep Eriacta away from women and children, as it is not produced for them.
For proper drug absorption, do not consume high fat-content meal and alcohol.
Grapefruits contain certain elements that are not attuned with Sildenafil Citrate, so avoid them during the course of therapy and mainly after dosage.
Mild dizziness is a common adverse effect, so abstain from risky activities soon after taking the dose.
Men taking nitrates, alpha-blockers and antidepressants should not use Eriacta, as they interact badly with Sildenafil Citrate, causing severe hypotension.
ESSENTIAL INFORMATION
Before using Eriacta, consult your doctor about past or present health issues (if any). This will help you use this generic medicine without any complication and drug reactions. Tell about –

History of medical problems like epilepsy, stroke, bronchial asthma, liver and/or kidney ailments, leukemia (blood cancer), penile deformity, etc.
Undergoing treatment for health issues with medications, such as nitrates, antibiotics, antivirals, antihypertensive drugs, antidepressants, etc.
Allergic to any medicinal drugs.
DRUG INTERACTIONS
Broad-spectrum antibacterial drugs, antivirals, antifungals, medicines for prostate, other PDE5-inhbitors, tranquilizers and cytotoxic (anti-cancer) agents interact adversely with Sildenafil Citrate. So make sure you inform your doctor about Eriacta medications you are using.
Contraindications
Men with end stage liver or kidney disorder; using nitrates or alpha-blockers; and who are oversensitive to Sildenafil Citrate should never use Eriacta generic anti-impotent drug.
Auxiliary Treatment
Indisputably, Eriacta is the best way to achieve rigid and long-lasting erection. In the meantime, you should follow healthy lifestyle, such as healthy eating habits, regular exercising, losing extra pounds and avoiding unhealthy habits like smoking and binge drinking.