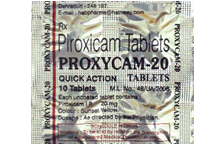 Description
Proxycam is a synthetic medicine that is classified under the group if drugs known as non-steroidal anti-inflammatory drugs. It is indicated primarily for providing quick relief from inflammation or pain caused due to osteoarthritis, rheumatoid arthritis, ankylosing spondylitis and other rheumatic conditions. It works by inhibiting the pain or inflammation mediation. Like every synthetic medicine, Proxycam too contains an active ingredient known as Piroxicam, an FDA-approved medicine.
Generic Name

Piroxicam

Strength(s)

20 mg

Delivery

25 days

Brand Name

Feldene

Expiry Date

2023

Shipping

Worldwide
SORRY! This Item Is Temporarily
OUT OF STOCK
IMPORTANT FEATURES
Proxycam is an effective and safe generic medicine to overcome inflammation and pain.
It provides instant relief from symptoms.
By decreasing pain and discomfort, this NSAID helps enhance mobility and flexibility.
Proxycam is available easily at reasonable price.
DRUG MECHANISM
Proxycam (Piroxicam) exerts anti-inflammatory, analgesic and antipyretic properties. It is one of the NSAIDs, which inhibits the enzyme cyclooxygenase (COX). Inhibition of COX ceases the secretion of prostaglandin that is actually responsible for inflammation or pain. Also, the swelling and stiffness are greatly reduced, thereby improving mobility and flexibility in joints and muscles.
USAGE GUIDELINES
Use Proxycam as directed by the medical professional.
Follow all instructions provided on the prescription label for safe and apt usage.
You may need alteration in dose during treatment, so make sure you see your doctor regularly.
Never take greater or lesser amounts of dose longer duration than prescribed.
Your doctor may start with lowest dose to treat your condition effectively.
You may notice the signs of improvement within two weeks of regular treatment.
Keep using this NSAID until and unless your doctor tells you to discontinue.
You may need regular blood tests while using this painkiller for longer duration.
Store Proxycam tablets at room temperature and away from heat or moisture.
EFFICACY
As compared to other NSAIDs in treating osteoarthritis and rheumatoid arthritis, Proxycam is found to be more safe and effective. In fact, it is one of the well-tolerated medications, which produces less or no side effects.
ADVERSE EFFECTS
Proxycam may give rise to few side effects that often subside, such as –

Urinary problems
Stomach upset
Heartburn
Nausea
Loss of appetite
Dizziness
Skin rash and itching
Altered liver function tests
PRECAUTIONARY MEASURES
Do not give Proxycam to children without doctor's recommendation.
Take the skipped dose as soon as your recollect, but avoid it if your next dose is scheduled.
Never try to take extra dose, as overdose is associated with unpleasant side effects.
Severe vomiting, abdominal pain and black or bloody stools are overdose symptoms, so be careful.
Avoid medicine like aspirin while you are using this painkiller drug.
More importantly, avoid alcohol as it may increase the risk of intestinal bleeding.
ESSENTIAL INFORMATION
People allergic to Piroxicam should never use this generic medicine.
People with cardiovascular disease and complications should avoid Proxycam, as it may increase the risk of heart attack.
To ensure the safe use, tell your doctor about health issues, such as high blood pressure, asthma, bleeding disorder, stroke, fluid retention, ascites, and liver/kidney disease.
It is not indicated in pregnant women and nursing mothers, as the drug may harm the fetus or newborn.
DRUG INTERACTIONS
The drugs that act adversely with this anti-inflammatory medicament are lithium, steroids, antihypertensive medicines, blood thinners and methotrexate. Hence, before using Proxycam, make sure you inform your doctor about undergoing treatment.
Contraindications
People with following issues should never use Proxycam –

Hypersensitivity to Piroxicam
Pre- and Post-operative coronary bypass surgery
Asthma and allergic to NSAID
End stage renal or hepatic disease
Auxiliary Treatment
In association with Proxycam, you can apply mild hot fomentation to affected joints. This will help enhance flexibility and mobility in joints.