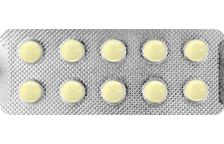 Description
Celexa-S is an effective oral medicament that is primarily prescribed for treating the symptoms of anxiety and major depressive disorder. It can be used in adults and teenagers who are above 12 years. Actually, it is an antidepressant, which is pharmacologically denoted as selective serotonin reuptake inhibitor (SSRI). It affects certain brain chemicals that are unbalanced and give rise to anxiety and depression. The active drug present in Celexa-S is Escitalopram.
Generic Name

Escitalopram

Strength(s)

20 mg

Delivery

25 days

Brand Name

Lexapro

Expiry Date

2023

Shipping

Worldwide
SORRY! This Item Is Temporarily
OUT OF STOCK
IMPORTANT FEATURES
Celexa-S is an amazing medicine that reduces the symptoms of anxiety and depression.
By treating depression and anxiety, this drug improves overall psychological make-up.
Clinical studies have reported that it is a quite effective and safe drug for mental health problems.
Celexa-S is available easily, especially at online pharmacy, that too at a very cheaper rate.
DRUG MECHANISM
The exact action mechanism of Celexa-S (Escitalopram) in treating major depressive disorder and anxiety is not clear. However, it is assumed to be linked with the potentiation of neurotransmitter in the brain, which results from the suppression of neuronal reuptake of a brain chemical – Serotonin. With this presumed action mechanism, it diminishes the symptoms of anxiety and depression.
USAGE GUIDELINES
Use Celexa-S exclusively after consulting your medical professional.
Follow all the directions provided by your doctor and stay away from self-medication and haphazard use of drug.
Your doctor may alter your dosage to ensure you get the best possible effect.
Do not consume less or more quantity of dose than prescribed.
You may need to take Celexa-S pill only once in duration of 24 hours, and at the same time every day to remember dosage timing.
It may take nearly four weeks to see improvement in your symptoms.
Keep using it regularly to get rid of your psychological problems.
Sudden cessation of treatment without doctor's consent can lead to unwanted drug withdrawal symptoms, so be careful.
Store the drug in a safe and secured place, and away from direct sunlight or moisture.
EFFICACY
Clinical studies of Celexa-S have reported that it plays a major role in treatment of patients with major depressive disorder and generalized anxiety disorder. 20 mg dosage was quite effective in adults suffering from severe depression and anxiety. Moreover, it is tolerated well by the patients, and produces less or no side effects as compared to other antidepressants.
ADVERSE EFFECTS
Tired feeling
Drowsiness
Sleeping issues
Vision changes
Heartburn or nausea
Stomach upset
Unusual changes in weight and appetite
Increased sweating
Diminished sexual drive

These are few common side effects of Celexa-S, which often go away after some time.
PRECAUTIONARY MEASURES
Do not give Celexa-S drug to children and teens without doctor's recommendation.
Missed or skipped dose is ought to be taken immediately after your recollect, but if the next dose is schedule, avoid it.
Never exceed the prescribed dose than advised, as overdose is associated with adverse drug reactions.
The consumption of alcohol may increase your risk of side effects, so better avoid it.
Avoid risky activities after dosage, because Celexa-S may impair your normal mental functions.
ESSENTIAL INFORMATION
Do not use this SSRI if you are oversensitive to escitalopram or citalopram.
If you are receiving treatment with methylene blue injection or Pimozide, do not use Celexa-S.
To ensure safe use of this antidepressant, inform your doctor about medical related issues, such as –

Liver or kidney disease
Seizures or convulsions
Diabetes
Glaucoma
Cardiac disease
Bipolar disorder
Suicidal thoughts

Some people may experience suicidal thoughts while using this antidepressant. Hence, you need to see your doctor regularly during the course of therapy.
Any change in mood or psychological health should be reported to doctor immediately.
Do not use Celexa-S in case of gestation and breast-feeding, because the drug may prove fatal to unborn baby and neonate.
DRUG INTERACTIONS
Drugs that may interact adversely with Celexa-S are as follows –

Other antidepressants
Lithium
Warfarin – Blood thinner
Migraine medicines
Narcotic painkillers
Buspirone
Contraindications
Patients with allergic to Escitalopram, and medical history of above-mentioned (in essential information) diseases should never use Celexa-S.
Auxiliary Treatment
In association with Celexa-S treatment, you can take help of acupuncture, Yoga, meditation and breathing techniques to overcome anxiety and depression, efficiently.