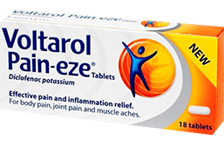 Description
Generic Voltarol is an effectual pain reducing medicine that works by inhibiting certain substances that cause inflammation. This medicine is often prescribed for managing pain in rheumatic conditions, such as osteoarthritis, rheumatoid arthritis, ankylosing spondylitis, bursitis or tendinitis, and mechanical injuries to joints or muscles. It is also used in treating menstrual cramps. In addition, it is prescribed to reduce the attack of migraine attack, though it will not prevent the attack. Like every synthetic medicine, Generic Voltarol contains an active drug, which is known as Diclofenac, a non-steroidal anti-inflammatory drug (NSAID).
Generic Name

Diclofenac

Strength(s)

100 mg

Delivery

25 days

Brand Name

Voltaren

Expiry Date

2023

Shipping

Worldwide
Quantity
New Customer
Returning Customer
Shipping
Add To Cart
(100 mg)
Price
Unit Price
Price
Unit Price
20 Pills
$71.00
$64.00
50 Pills
$105.00
$95.00
70 Pills
$119.00
$107.00
100 Pills
$149.00
$134.00
120 Pills
$159.00
$143.00
150 Pills
$169.00
$152.00
200 Pills
$199.00
$179.00
300 Pills
$279.00
$251.00
500 Pills
$379.00
$341.00
IMPORTANT FEATURES
Generic Voltarol is one of the most popular painkillers prescribed by innumerable physicians.
It acts really fast and provides quick relief from joint and muscle pain.
By eradicating pain, it enhances overall mobility and flexibility in joints.
Generic Voltarol is available easily and at a surprisingly cheaper rate.
DRUG MECHANISM
Generic Voltarol (Diclofenac), after oral introduction, targets and inhibits a naturally secreting enzyme known as cyclooxygenase (COX). Inhibition of COX further ceases the production of a hormone-like chemical – prostaglandin. Secretion of prostaglandin is the main reason why a person experience pain. Cessation of prostaglandin synthesis brings down the inflammation, thereby reducing pain, stiffness, swelling, redness and tenderness.
USAGE GUIDELINES
Generic Voltarol is ought to be used after conferring a medical practitioner.
Follow the dosage and directions provided on the medicinal leaflet or prescription label.
Do not consume more or less amount of dose than recommended.
Usually, you need to take 100 mg once in a day for several days to subside pain; however, your doctor is the right person to prescribe your proper dosage.
Consume a pill wholly with a glass full of water, without chewing or crushing it.
If you fail to notice improvement, consult your doctor for further management with this painkiller.
Store Generic Voltarol in a safe place, and away from direct heat or moisture.
See your doctor during treatment, as medical tests are required during the course of therapy.
EFFICACY
The effectiveness of Generic Voltarol (Diclofenac) is largely undisputed. It is pretty effective than other pain reducers, especially for osteoarthritis and rheumatoid arthritis. According to survey, this NSAID continues to be one of the physicians' most preferred pharmacological treatments for rheumatic conditions.
ADVERSE EFFECTS
Nausea
Indigestion or heartburn
Gaseous distension
Diarrhea or constipation
Headache
Dizziness
Increased sweating
Mild swelling in arms or legs

The aforementioned adverse effects are common ones; however, you may experience other symptoms. If they trouble you, consult the doctor for medical attention.
PRECAUTIONARY MEASURES
Do not give Generic Voltarol to children unless the doctor prescribes.
Avoid alcohol during treatment; otherwise, it will lead to intestinal bleeding.
Do not exceed the dose by any means, as overdose is associated with adverse drug reactions.
In case of skipped or missed dose, take it as soon as you recollect, but never consume Generic Voltarol two doses at a single time.
Maintain proper gap between two doses to evade unwanted side effects.
ESSENTIAL INFORMATION
Generic Voltarol should be used after talking with the medical professional.
To make sure it is safe for you, inform the medical advisor about health issues, such as –

Heart ailments
High blood pressure
Gastric ulcers
Intestinal bleeding
Kidney or liver disease
Asthma
Smoking
Undergoing therapies
Allergic to any therapeutic drug

Taking Generic Voltarol during pregnancy can harm the fetus, so be careful and inform your doctor before using it.
Similarly, if you are nursing a child, make sure you have a word with the doctor.
DRUG INTERACTIONS
Medicinal drugs that may interact with Generic Voltarol are as follows –

Antidepressants
Blood thinner (warfarin)
Steroids
Other NSAIDs
CONTRAINDICATIONS
Generic Voltarol is not recommended for people who have following issues –

Allergic to Diclofenac
Medical history of asthma, urticaria, or heart disease
Chronic liver or kidney disease
Auxiliary Treatment
In association with Generic Voltarol, your doctor may advise to apply local anti-inflammatory application along with hot fomentation for early recovery. Make sure you follow your doctor's prescription. Once your pain subsides completely, you can start with mild physiotherapy exercises to prevent stiffness and recurrence.