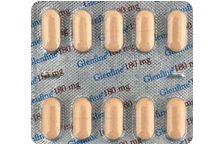 Description
Glenfine is a wonderful generic medicine to eradicate seasonal allergies in adults and children. It is also found helpful in managing the skin reaction like urticaria (skin rash) and other allergies associated with skin. The common indications of this medicine are hay fever (allergic rhinitis) and chronic idiopathic urticaria. Hence, it is useful in eradicating symptoms such as constant sneezing, nasal congestion with obstruction, post-nasal discharge, red/water/itchy eyes, mild fever and headache. In addition, it heals urticarial rash that is characterized by skin eruptions with intense itching and burning. Fexofenadine is the active ingredient of Glenfine, which is an effective antihistamine drug.
Generic Name

Fexofenadine

Strength(s)

180 mg

Delivery

25 days

Brand Name

Allegra

Expiry Date

2023

Shipping

Worldwide
SORRY! This Item Is Temporarily
OUT OF STOCK
IMPORTANT FEATURES
Glenfine is the right choice of drug to manage allergic rhinitis and chronic idiopathic urticaria.
It is a third-generation antihistamine agent, which is known to produce less dizziness than other antihistamines.
It is effective and safe in use in both adults and children.
Glenfine online is available easily at a very cheap price.
DRUG MECHANISM
An allergic reaction is an exaggerated response between an oversensitive immune system and an allergen. During this process, the body releases a chemical known as histamine that is actually responsible for inflammation and allergic symptoms. So the basic idea is to stop the secretion of histamine, and Glenfine does exactly the same. Its active ingredient Fexofenadine is an antihistamine drug, which means, it ceases the secretion of histamine by inhibiting H1-histamine receptors. Eventually, the inflammation subsides and the allergic symptoms are eliminated, thereby giving relief from hay fever and urticaria.
USAGE GUIDELINES
Use Glenfine tablets exactly as instructed by your medical professional.
Do not consume more or less amount of dose for longer period than recommended.
Consume the tablet orally with a fill glass of water, and do not crush, chew or break the pill.
For appropriate dosage and schedule, you need to seek help from your doctor.
Maintaining proper gap between prescribed doses is necessary to avert overdose and its side effects.
Store Glenfine tablets at room temperature, and away from direct heat, sunlight and moisture.
EFFICACY
According to clinical trials, Glenfine is both effective and safe for eradicating the symptoms of allergic rhinitis and nettle rash.
ADVERSE EFFECTS
Synthetic medications often produce certain side effects, which actually subside if they are mild. But if they are severe and persist, it is recommended to get immediate medical help. Following are few side effects of Glenfine –

Nausea
Stomach ache
Diarrhea or constipation
Menstrual cramps
Mild headache
Back pain
Muscle pain
Dizziness
Fatigue
PRECAUTIONARY MEASURES
Glenfine should never be given to kids unless your doctor prescribes.
If you miss the dose, make sure you take it as soon as you remember, but avoid it if your next dose is scheduled.
Overdose is associated with drug reactions like severe dizziness, dryness of mouth and sleepiness.
Avoid antacids and fruit juices along with the dose, as they contain certain ingredients that may hamper the drug assimilation power.
However, you can take antacid medicine at least 15 to 30 minutes after Glenfine dosage.
More importantly, stay away from alcoholic beverages, as they may nullify the drug effectiveness and produce severe dizziness.
Mild dizziness is quite common while under the influence of Fexofenadine, so refrain from physical activities after taking the dose.
ESSENTIAL INFORMATION
If you have history of kidney or liver dysfunction, bronchial asthma, and any other health issues, make sure you have a word with your doctor before using Glenfine.
If you are allergic to Fexofenadine or any other medicine, tell your doctor beforehand.
Likewise, if you are under any sort of treatment, tell your physician.
It is idiopathic whether Fexofenadine is harmful or not for women who conceive; however, it is safe to consult the doctor before usage.
Breastfeeding women should never encounter Glenfine tablet, as it is known to affect neonates.
DRUG INTERACTIONS
Antivirals
Antifungals
Antibiotics
Muscles relaxants
Antidepressants
Painkillers
Sleeping pills
Other antihistamine drugs

These drugs may interact adversely with Glenfine; hence, ensure you inform your doctor.
CONTRAINDICATIONS
People sensitive to Fexofenadine, and having chronic end-stage kidney disease should never make use of Glenfine antihistamine drug.
AUXILIARY TREATMENT
Glenfine will certainly help eliminate allergic rhinitis and chronic urticaria. Meanwhile, you can follow few natural ways to boost your immune system, and more essentially avoid allergens (triggering factors) in order to evade allergies. x