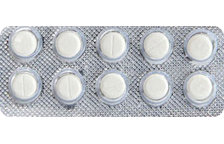 Description
Citka is a prescription medication that is primarily prescribed for the treatment of long-term depression. It is actively composed of an FDA-approved drug known as Citalopram, which is an antidepressant. It is classified under the group of therapeutic agents called as selective serotonin reuptake inhibitors (SSRIs). A major depressive disorder is characterized by the symptoms of dysphoric or depressed mood, feeling of worthlessness, impaired concentration and thinking, suicidal intentions and thoughts, loss of interest in performing daily activities, unusual changes in weight and appetite, and insomnia. It is important to diagnose depression before prescribing Citka.
Generic Name

Citalopram

Strength(s)

10 mg

Delivery

25 days

Brand Name

Celexa

Expiry Date

2023

Shipping

Worldwide
SORRY! This Item Is Temporarily
OUT OF STOCK
IMPORTANT FEATURES
Citka is a clinically proven and effective medicine for treating the symptoms of depression.
It eradicates all the clinical features of depression and improves overall psychological health.
It works well if used regularly and under the supervision of the physician.
Citka is available at a reasonable price if acquired from online pharmacy.
DRUG MECHANISM
The action mechanism of Citka as an antidepressant is idiopathic, but it is presumed to be linked with the inhibition of reuptake of serotonin in the central nervous system. It has minimal effect on neuronal uptake of dopamine and norepinephrine. With the help of its serotonergic activity, it reduces the symptoms of depression and enhance the overall mental function.
USAGE GUIDELINES
Use Citka as directed by your medical professional.
Go through and follow all the directions provided on the prescription label.
For proper dosage and directions, ask your doctor, who is the right person to suggest.
He/she may occasionally alter your dosage to ensure you get best possible treatment.
Never take more or less amount of dose than prescribed for longer duration.
It may take nearly four to five weeks or longer to notice the signs of improvement.
Never stop this drug abruptly, as you may experience adverse side effects on sudden cessation of treatment.
Store Citka in a cool and dry place, and more importantly, away from direct heat or moisture.
EFFICACY
The clinical efficacy of Citka in managing the symptoms of depression is great up to 24 weeks of treatment. In acute cases, it may take up to six to eight weeks. The physicians who prescribe this antidepressant for longer duration often re-evaluate its usefulness in each patient.
ADVERSE EFFECTS
Few common adverse effects of Citka are mentioned below –

Dizziness
Anxiousness
Sleep issues
Nausea
Loss of appetite
Diarrhea
Dry mouth
Yawning
Vision changes
Cold-like symptoms such as nasal congestion, cough and sneezing
Increased perspiration
Weight changes
Impotency or loss of sexual drive
PRECAUTIONARY MEASURES
Citka (Citalopram) should never be given to children.
Irregular use of this antidepressant will not yield satisfactory results.
In case of missed or skipped dose, make sure the dose is taken once you recollect. Don't take the extra dose in case the skipped dose is near to your next dose.
Overdose is associated with unwanted drug reactions, so take special care when it comes to dosage schedule.
Avoid alcohol, as it can interact with Citalopram and produce unpleasant side effects.
Also, avoid painkillers (NSAIDs) while using Citka, as they may aggravate your symptoms.
This SSRI drug may impair your reacting and thinking processes, so be careful and avert outdoor activities after dosage.
ESSENTIAL INFORMATION
If you are allergic to Citalopram and Escitalopram, do not use Citka.
In addition, if you are under treatment with methylene blue injection and pimozide, do not take this antidepressant.
To make sure Citka is safe and effective for you, tell your physician if you have following issues –

Liver or kidney ailments
Glaucoma
Epilepsy or seizures
Bipolar disorder
Blood dyscrasias
Cardiac disorder
Suicidal thoughts
History of drug abuse

Do not use Citka if you are pregnant and breast-feeding without having a word with the medical practitioner.
You need to visit your doctor regularly during treatment, because this drug may produce suicidal thoughts and alter your behavior.
DRUG INTERACTIONS
Drugs such as antacids, blood thinners, cancer medicines, anti-malarial drugs, anxiolytics, migraine medicine, and other antidepressant are known to interact badly with Citka (Citalopram). Hence, it is recommended to inform about medicines beforehand.
Contraindications
Citka is contraindicated in people with below-mentioned conditions –

Using MAOIs for psychiatric disorder.
Under therapy with Linezolid or methylene blue injection
Hypersensitive to Citalopram
Debilitating liver or kidney dysfunction
Auxiliary Treatment
There are many different ways to cope with depression, such as Yoga, meditation, breathing techniques, acupuncture, etc. You can take help of the natural ways in association with this SSRI to battle depression, effectively.