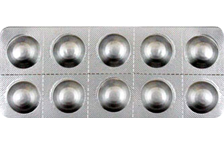 Description
Generic Zanaflex is a clinically proven medicine that acts as a muscle relaxant. It relives muscular pain by blocking pain sensation or nerve impulses that are delivered to the brain. It is commonly prescribed to manage muscle spasms, which are experienced in diseases like multiple sclerosis or spinal cord injury. It is used to relax the muscle tone. Generic Zanaflex may also be prescribed for other therapeutic use that is not listed here. The active drug composition of this medicine is Tizanidine, an FDA-approved muscle relaxant.
Generic Name

Tizanidine Hydrochloride

Strength(s)

2 mg

Delivery

25 days

Brand Name

Zanaflex

Expiry Date

2023

Shipping

Worldwide
Quantity
New Customer
Returning Customer
Shipping
Add To Cart
(2 mg)
Price
Unit Price
Price
Unit Price
20 Pills
$81.00
$73.00
50 Pills
$135.00
$122.00
70 Pills
$169.00
$152.00
100 Pills
$225.00
$203.00
120 Pills
$239.00
$215.00
150 Pills
$265.00
$239.00
200 Pills
$319.00
$287.00
300 Pills
$429.00
$386.00
500 Pills
$639.00
$575.00
IMPORTANT FEATURES
Generic Zanaflex is found to be more effective in treating muscles contraction than other anti-spasmodic drugs.
A strong medicine acts within 10-15 minutes and imparts relief for five to six hours.
It is one of the most preferred drugs for treating fibromyalgia.
Generic Zanaflex is available easily at a very competitive price.
DRUG MECHANISM
Generic Zanaflex (Tizanidine) is a therapeutic agent that acts as an antagonistic to adrenergic receptors. This means it inhibits certain receptors within the nervous system or motor neurons to reduce the muscle spasticity. It blocks the signals that carry pain sensation towards the brain. It undermines the effects of spinal motor neurons that indicates inflammation and pain through spinal cord and the brain.
USAGE GUIDELINES
Take Generic Zanaflex only after discussing with the medical provider.
Go through the directions on the prescprtion label and follow them.
Never take lesser or greater quantity of this medicine than prescribed.
Your physician may alter your dosage to provide you long-term relief.
Consume the pill with a glass full of water, with or without food.
Usually, the effect of this medicine is for five to six hours, so you may have to take it for two to three times a day.
Do not take more than three dosages in a day, as excessive use of this drug may affect your liver.
Store Generic Zanaflex tablets at room temperature, and away from direct sunlight.
EFFICACY
According to clinical trials, Generic Zanaflex is effective in reducing muscle spasticity in people with spinal cord injury. It is one of the most attractive therapeutic alternatives for subjects with spinal or cerebral damage associated with spasticity.
ADVERSE EFFECTS
Following are the possible side effects of Generic Zanaflex, which often subside after some time–

Numbness and tingling
Nausea
Stomach upset
Diarrhea
Dizziness
Nervousness and anxiety
Dry mouth
Mild fever

You may experience other side effects as well. Immediately get in touch with the medical practitioner in case if these side effects persist.
PRECAUTIONARY MEASURES
Never give Generic Zanaflex medicine to children.
During treatment, stay away from alcohol and other beverages that contain stimulants.
Do not take two doses at a single time in case of missed or skipped dose, rather ask your doctor for further dosage.
Overdose may produce symptoms like drowsiness, fainting, confusion and restlessness, so use the medicine as directed by doctor.
Generic Zanaflex is known to impair your reaction and thought process; hence, avoid outdoor risky activities after taking the dose.
ESSENTIAL INFORMATION
Before using Generic Zanaflex, inform your doctor about any medicinal allergy.
Tell your doctor if you are suffering from liver or kidney disease, high blood pressure, and history of heart rhythm disorder.
Also, inform about the medications you are taking for other health issues (if any).
More importantly, ask your doctor whether to use it in pregnancy and breast-feeding. Generic Zanaflex harms the fetus and newborn, so it is better to stay away from this muscle relaxant during pregnancy and breast-feeding.
DRUG INTERACTIONS
Antivirals
Antacids
Oral contraceptives
Antibiotics
High blood pressure medicines
Cardiac medications

The above-mentioned drugs are therapeutic agents that may interact adversely with Generic Zanaflex.
Contraindications
Slow pulse rate
Severe hepatic or renal disorder
Mental disorder
Allergic to Tizanidine

People having above-mentioned health issues should not use Generic Zanaflex.
Auxiliary Treatment
In association with Generic Zanaflex, you can undergo massage therapy with the help of a massage therapist to alleviate the pain and discomfort. Gentle stretching and rest can also help reduce spasms.