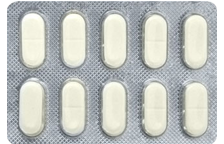 Description
Pirakin is an amazing medicine that helps enhance one's memory and overall brain function. It works on the central nervous system and is found helpful in supplying oxygen to the brain. It is also used in conjunction with other medicinal drugs to treat muscle spasms that are clonic in nature. It does so by regulating the vascular as well as neuronal functions. Furthermore, it improves the cognitive abilities without producing sedation. Pirakin is actively composed of a clinically proven component known as Piracetam, which is a nootropic agent. It is classified under the group of drugs known as racetam that help improve memory.
Generic Name

Piracetam

Strength(s)

400 mg

Delivery

25 days

Brand Name

Piracetam

Expiry Date

2023

Shipping

Worldwide
SORRY! This Item Is Temporarily
OUT OF STOCK
IMPORTANT FEATURES
Pirakin is used for enhancing memory and mood, providing oxygen to the brain, and improving sensory perception.
It also helps children who have dyslexia and reading disorders.
It is safe in use as it is a clinically proven drug.
Pirakin is available easily online and at reasonable price.
DRUG MECHANISM
The working of Pirakin (Piracetam) in improving cognitive abilities, mood and memory is unknown. However, it is presumed to be linked with certain vascular and neurogenic functions that help enhance psychological health. It works on certain neurological receptors that are associated with learning, grasping and understanding abilities. In addition, it is believed to augment the consumption of oxygen in the brain, thereby enhancing neurogenic functions.
USAGE GUIDELINES
It is reomcneded to use Pirakin only after talking with the medical advisor and use it according to his/her instructions.
The standard dose of this smart drug is 7.2 g once in a day; however, your doctor is the right person to advise your proper dose.
You should never take smaller or greater amount of dose for longer duration than prescribed.
Your doctor may steadily increase the dose after analyzing your response to the drug.
The route of administration of this drug is oral and you should take the whole Pirakin pill along with a glass full of water.
Breaking, chewing or crushing the pill can greatly reduce the efficacy of the active drug, so take the whole pill.
Keep the tablets in a dry, cool place and away from direct heat or moisture.
EFFICACY
Pirakin (Piracetam), if given regularly, seems to be quite effective and well-tolerated medicine for clonic spasms of muscles and cognitive impairment. It is also used to combat cognitive decline, and to boost memory, mood and cognitive function in young adults.
ADVERSE EFFECTS
During the course of treatment, you may experience few common side effects of Pirakin, such as –

Anxiousness
Agitation
Confusion
Restlessness
Unsteadiness
Delusions
Stomach upset
Headache
Fatigue
PRECAUTIONARY MEASURES
Never give Pirakin to children without the recommendation of your physician.
In case of skipped or missed dose, make sure the dose is taken as soon as you recollect, but if the next dose timing is schedule, then don't take the skipped dose.
Never exceed the dose by any means, as overdose is associated with unwanted health complications.
You should not indulge in risky outdoor activities while under the influence of Pirakin drug, because dizziness is experienced after dosage.
While using this nootropic drug, make sure you keep an eye on your salt intake, because Piracetam also contains sodium. So hypertensive patients should be very careful.
Avoid alcohol and other stimulants during treatment, as they may not allow the drug to work appropriately.
ESSENTIAL INFORMATION
You should avoid this medicine if you are oversensitive to Piracetam.
Pirakin should be used only after informing basic health issues to your doctor, such as –

Liver dysfunction
Kidney stones or dysfunction
Cerebral Hemorrhage
Uncontrolled high blood pressure

It is highly recommended to ask your medical professional about using Pirakin in case of pregnancy and breast-feeding.
If you are under any treatment, make sure you tell your doctor beforehand.
DRUG INTERACTIONS
Pirakin is known to interact with other therapeutic agents, such as tranquilizers, thyroid extracts and herbal or vitamin supplements. If these drugs are taken with Piracetam, you may experience troubles in sleeping, and feel more irritable.
Contraindications
Pirakin is not recommended for people with below-mentioned conditions –

Allergic to Nootropic drugs
Cerebral Hemorrhage
End stage kidney or liver disease
Bleeding disorders
Auxiliary Treatment
In association with this smart drug, you can practice meditation and Yoga to enhance your overall mental function.