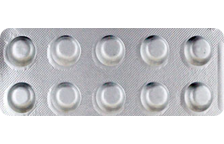 Description
Muvera is a wonderful medicine that is prescribed for relief of the signs and symptoms of rheumatoid arthritis, osteoarthritis, and juvenile rheumatoid arthritis in children above two years. It is usually indicated to treat inflammation, pain, swelling and stiffness. Muvera is actively composed of an FDA-approved known as Meloxicam, which is a non-steroidal anti-inflammatory drug (NSAID) that works by inhibiting hormone-like chemicals, which cause inflammation and pain. To use this painkiller aptly, you need to see your doctor.
Generic Name

Meloxicam

Strength(s)

15 mg

Delivery

25 days

Brand Name

Mobic

Expiry Date

2023

Shipping

Worldwide
SORRY! This Item Is Temporarily
OUT OF STOCK
IMPORTANT FEATURES
Muvera is one of the most effective painkillers.
It treats rheumatic conditions efficiently by producing less or no side effects.
By eliminating pain and stiffness, it increases mobility and flexibility in joints and muscles.
Muvera is a generic medicine that is easily available at relatively cheaper prices.
DRUG MECHANISM
Like other non-steroidal anti-inflammatory drugs, Muvera (Meloxicam) is related to inhibition of prostaglandin synthesis. This drug preferentially inhibits the secretion of cyclooxygenase (COX) in order to cease the synthesis of prostaglandin that is responsible for inflammation, pain and stiffness. Once prostaglandin secretion is ceased, inflammation and pain reduce. Hence, it exhibits anti-inflammatory, anti-pyretic and analgesic properties.
USAGE GUIDELINES
Take Muvera exactly as indicated by your medical prescriber.
Follow all the instructions provided on the prescription label.
To make sure you get best results, your doctor may try to alter the dose.
Never consume more or less amount of dose for longer duration than prescribed.
You can take the dose with or without meal. Make sure you take the tablet orally without crushing or chewing.
In case of juvenile arthritis, the dose of this painkiller is based on the child's weight, so ask your doctor beforehand.
You may require to undergo certain medical tests if your doctor prescribed this NSAID for longer duration.
Store Muvera medicine at room temperature and away from direct moisture and heat.
EFFICACY
Muvera (Meloxicam) is an effective and safe medicine for the symptomatic treatment of rheumatoid arthritis and osteoarthritis. A dose of 7.5 or 15 mg once daily helps reduce pain and stiffness. It is also helpful in improving overall flexibility in joints and muscles.
ADVERSE EFFECTS
Following are common side effects of Muvera –

Stomach upset
Nausea or vomiting
Heartburn
Dizziness
Gaseous distention
Diarrhea
Cold or flu symptoms
PRECAUTIONARY MEASURES
Never give Muvera to children without the doctor's recommendation.
If you miss your dose, take it as soon as you recollect, but skip it if your next dose is scheduled.
Never take extra dose to compensate the missed dose.
Overdose can give rise to unwanted drug reactions that can hamper your health.
Strictly avoid alcohol during treatment, as it may increase the risk of intestinal bleeding.
Also, avoid aspirin medicine while using Muvera.
ESSENTIAL INFORMATION
Inform your doctor about medical problems, if any, such as –

Liver or kidney disease
Heart or blood vessels disease
Ascites (fluid retention)
Peptic ulcer
Asthma

Tell your doctor about treatment that you are undergoing before using Muvera.
At the same time, inform about any medicinal allergies.
If you are under fertility treatment, do not use this NSAID unless your doctor prescribes.
Pregnant women and nursing mothers should never use Muvera, as the drug has the ability to harm the fetus and newborn.
DRUG INTERACTIONS
Lithium
Blood thinner (warfarin)
Water pill (diuretic)
Steroids
Methotrexate
Cyclosporine

The aforementioned drugs are meant to interact with Meloxicam, adversely. Make sure you tell about the undergoing treatment before using Muvera.
Contraindications
Muvera should never be given to those who have history or severe asthma, urticaria, and taking other NSAIDs. It is also strictly contraindicated in patients with pre- and post-operative coronary bypass surgery.
Auxiliary Treatment
Muvera will definitely help treat inflammatory conditions. In addition, you can apply hot fomentation externally. Once the pain and discomfort reduce, perform mild physical exercises to alleviate stiffness and improve mobility.