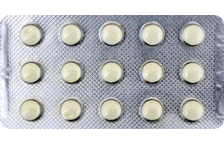 Description
Generic Finpecia is one of the most popular medicines for managing male pattern baldness, which is also called as androgenic alopecia. Male pattern baldness is a common medical condition characterized by the gradual thinning and falling of hair. Predominantly, hair fail is experienced in certain areas of head, such as crown, sides and forehead. Generic Finpecia is advised only for men with hair fall, so females and children should never encounter it. This medicine prevents the transformation of testosterone, a sexual hormone, into dihydrotestosterone (DHT) to stop hair loss process. Moreover, it helps in overall re-growth of hair in terms of density and thickness. The active ingredient of this generic medicament is Finasteride, an FDA approved drug.
Generic Name

Finasteride

Strength(s)

1 mg

Delivery

25 days

Brand Name

Propecia

Expiry Date

2023

Shipping

Worldwide
Quantity
New Customer
Returning Customer
Shipping
Add To Cart
(1 mg)
Price
Unit Price
Price
Unit Price
20 Pills
$89.00
$80.00
50 Pills
$189.00
$170.00
70 Pills
$229.00
$206.00
100 Pills
$299.00
$269.00
120 Pills
$329.00
$296.00
150 Pills
$379.00
$341.00
200 Pills
$459.00
$413.00
300 Pills
$599.00
$539.00
500 Pills
$799.00
$719.00
IMPORTANT FEATURES
Generic Finpecia is a renowned medicinal agent for managing androgenic alopecia.
Regular use without skipping assist in hair regrowth and development.
It may take around several months to a year to experience signs of improvement.
Generic Finpecia is easily available at a very pocket-friendly price.
DRUG MECHANISM
In male pattern baldness, a sexual hormone testosterone is transformed into dihydrotestosterone (DHT); this transformation is the main reason why men lose hair. Hair fall persist when DHT level is high in the body. Generic Finpecia (Finasteride) negates the function of an enzyme known as 5-alpha-reductase. This allows the body to stop the transformation of testosterone into DHT, thereby averting hair loss and encouraging regrowth of hair.
USAGE GUIDELINES
Use Generic Finpecia precisely as instructed by your medical advisor.
Do not take more or less quantity of dose than advised.
Read and follow all the instructions provided on the prescription label.
Take 1 mg pill only once in a time span of 24 hours.
Consume the pill with or without food, and make sure you do not crush or break the pill.
Consistent use without skipping will provide you desired effects.
To notice marked improvement in your hair growth, you need to take it for several months, or probably a year.
Talk to doctor in case if you fail to see any improvement even after using it for a year.
Keep Generic Finpecia away from sunlight, moisture and heat.
EFFICACY
According to clinical study reports, Generic Finpecia (Finasteride) promotes hair growth without producing much side effect, provided used regularly. However, there are few cases with known mild side effects of impotency and lack of sexual desire. Nevertheless, it helped millions of men by restoring their normal hair growth and cycle.
ADVERSE EFFECTS
Generic Finpecia may produce few side effects, which usually subside, such as –

Lack of sexual drive
Poor erection
Difficult orgasm
Headache
Stuffy nose
Drowsiness
Gynecomastia (Breast tenderness)
PRECAUTIONARY MEASURES
Generic Finpecia is not designated for females and kids, so they should never use it.
Avoid alcoholic beverages during the course of treatment, as it may hamper the drug absorption.
Dizziness is a common side effect of Generic Finpecia drug, hence it is recommended to stay away from outdoor activities after taking Generic Finpecia.
Avoid rising suddenly from sitting or lying position after taking the dose, as you may feel dizzy.
Overdose will give rise to health complications, so it is suggested to keep proper gap between doses.
ESSENTIAL INFORMATION
Before using Generic Finpecia, inform your doctor regarding medical problems like liver/kidney dysfunction, prostate enlargement, sexual issues and bladder troubles.
Discuss about undergoing therapy (if any) before using Finasteride.
Generic Finpecia is more likely to increase the prostate cancer risk, so you may need regular medical assessment during therapy.
The active drug Finasteride is known to harm the unborn baby if pregnant women encounter it, so they should never come in contact with Generic Finpecia.
DRUG INTERACTIONS
Few drugs are meant to interact vaguely with Generic Finpecia, so inform your doctor about the treatment you are undergoing, which may include OTC drugs, prescription drugs, vitamin supplements and herbal remedies.
Contraindications
Patients who suffer from following issues are advised not to use Generic Finpecia –

Liver or kidney dysfunction
Prostate cancer
Male breast cancer
Allergic to Finasteride

Also, it is not recommended in pregnant women and nursing mothers, and children.
Auxiliary Treatment
Generic Finpecia, if used regularly, will yield satisfactory results by promoting hair growth. Meanwhile, you should practice healthy lifestyle habits to encourage hair growth. More essentially, avoid alcohol and smoking.