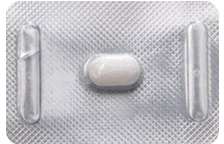 Description
Generic Imitrex is an effective and safe medicine prescribed for treating the symptoms of migraine and cluster headaches. It will only manage the symptom of head pain that has already started. It will not prevent headache or reduce the attack of migraine. Generic Imitrex is not used for treating common headaches. It is recommended to use this medicine only after confirming the diagnosis of migraine. The vasoconstriction (narrowing of blood vessels) properties of this medicine in the brain help suffice migraine and cluster headache. The active drug of this medicine is Sumatriptan that helps reduce the triggering factor of pain in head, nausea and migraine.
Generic Name

Sumatriptan

Strength(s)

100 mg

Delivery

25 days

Brand Name

Imitrex

Expiry Date

2023

Shipping

Worldwide
Quantity
New Customer
Returning Customer
Shipping
Add To Cart
(100 mg)
Price
Unit Price
Price
Unit Price
20 Pills
$399.00
$359.00
50 Pills
$799.00
$719.00
70 Pills
$999.00
$899.00
100 Pills
$1,299.00
$1,169.00
120 Pills
$1,499.00
$1,349.00
150 Pills
$1,599.00
$1,439.00
200 Pills
$1,699.00
$1,529.00
300 Pills
$1,799.00
$1,619.00
500 Pills
$1,999.00
$1,799.00
IMPORTANT FEATURES
Generic Imitrex is a recognized and clinically proven drug for migraine and its associated symptoms.
It acts faster and provides instant relief from pain and discomfort in head.
It will not help prevent the attack of migraine.
Generic Imitrex medicine is available at a very cheaper price.
DRUG MECHANISM
Usually, cluster headaches and migraines are a result of vasodilatation i.e. dilatation of blood vessels in the brain. Hence, it is essential to constrict the blood vessels in order to relieve pain in head, and Generic Imitrex (Sumatriptan) does the same. It has an antagonistic effect on certain receptors that are present in central nervous system. By inhibiting these receptors, Sumatriptan releases the intracranial pressure from blood vessels and sensory nerves, thereby constricting the blood vessels and suppressing the inflammation. This is how Generic Imitrex works in eliminating migraine and cluster headaches.
USAGE GUIDELINES
Use Generic Imitrex exactly as advised by your physician.
Never try to take less or more quantity of this medicine than prescribed.
Read and follow the instructions provided on the prescription label.
Do not exceed the dose, as overdose may aggravate your pain and discomfort.
Usually, the dose is to be taken only when your pain or migraine attack starts.
After dosage, if your headache comes back, take the dose at least two hours after previous dose.
Never exceed the dose by 200 mg in a time span of 24 hours.
Consume the whole Generic Imitrex tablet with a glass full of water, without crushing or breaking it.
Store the drug in a dry, cool place, and away from direct heat or sunlight.
EFFICACY
In adults, the efficacy of Generic Imitrex for migraine was proven in various clinical studies. It provided relief within four hours in nearly 70 percent of cases, and within two hours in 50 to 60 percent of cases. The effectiveness of all doses was greater in almost all patients.
ADVERSE EFFECTS
Dizziness
Tingling and numbness of parts
Heavy feeling in certain parts of the body
Neck pain with stiffness
Facial flushing
Tiredness
Generalized weakness

These are few possible side effects of Generic Imitrex, which usually go away after some time. However, this is not the complete list of adverse effects. You may experience other symptoms as well. If any of them persist, call the doctor right away for medical intervention.
PRECAUTIONARY MEASURES
Do not give Generic Imitrex medicine to children, as it may lead to serious medical complications.
Take the dose only when required and as prescribed by the doctor.
Stay away from self-medication and overuse.
Overdose can produce neurological symptoms like seizures, tremors, lack of coordination, improper gait, vision troubles and weakness.
You should keep proper gap between doses to prevent overdose.
Generic Imitrex is known to impair your abilities of thinking and concentrating, so be careful and avoid risky activities that need alertness, especially after dosage.
Do not smoke and consume alcohol during the course of therapy
ESSENTIAL INFORMATION
You should use Generic Imitrex only after having a word with the medical advisor, and inform about following medical conditions (if any) –

Chest pain (angina)
Blood circulation issues
Cardiovascular disease
Severe liver dysfunction
Uncontrolled hypertension
Intestinal issues
History of epilepsy, stroke or heart attack

Tell your doctor if you are under any kind of treatment with other drugs.
Inform about any medicinal allergies.
More importantly, inform about pregnancy or breast-feeding before using Generic Imitrex medicine.
DRUG INTERACTIONS
Generic Imitrex (Sumatriptan) is known to interact haphazardly with other synthetic medications, such as –

Antibiotics
Anti-tubercular drugs
Antifungals
Antivirals
Antidepressants
Cardiovascular medicines
Contraindications
Patients with following medical issues should never use Generic Imitrex migraine medicine –

Coronary artery disease
Arrhythmias
History of stroke, epilepsy, paralysis, or heart attack
Ischemic bowel disease
Uncontrolled high blood pressure
Severe kidney or liver impairment
Under treatment with ergot-containing medicines and antidepressants
Allergic to Sumatriptan
Auxiliary Treatment
Typically, a migraine attack is triggered by an external factor, such as light and noise. Preventing or avoiding these triggering factors can help one avert the attack of migraine. However, in advanced cases, one need to see his/her doctor for eliciting underlying medical cause.