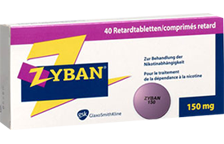 Description
Generic Zyban is mainly prescribed to assist people to cease smoking. It is a non-nicotinic drug to aid smoking cessation. It does so by reducing the desire to smoke and other withdrawal symptoms. It is a synthetic medicine, which is not related to any nicotine agents that are used for reducing or ceasing nicotine addiction. Generic Zyban is actively composed of a drug known as Bupropion, which is an antidepressant agent. This drug is bitter in taste and acts as a local anesthetic in oral mucosa.
Generic Name

Bupropion

Strength(s)

150 mg

Delivery

25 days

Brand Name

Zyban

Expiry Date

2023

Shipping

Worldwide
Quantity
New Customer
Returning Customer
Shipping
Add To Cart
(150 mg)
Price
Unit Price
Price
Unit Price
20 Pills
$99.00
$89.00
50 Pills
$219.00
$197.00
70 Pills
$289.00
$260.00
100 Pills
$379.00
$341.00
120 Pills
$399.00
$359.00
150 Pills
$459.00
$413.00
200 Pills
$559.00
$503.00
300 Pills
$699.00
$629.00
500 Pills
$799.00
$719.00
IMPORTANT FEATURES
Generic Zyban reduces the cravings of smoking and aids in quitting smoking.
It is a clinically proven remedy for smoking cessation.
It is superiorly effective than nicotine patch that is used for quitting smoking.
Generic Zyban is gettable at a very affordable price.
DRUG MECHANISM
The exact action mechanism of Generic Zyban in aiding smoking cessation is not clear. However, it is presumed to be linked with some dopaminergic or noradrenergic mechanisms. The drug Bupropion is a poor inhibitor of reuptake of dopamine and norepinephrine, but it doesn't suppress the reuptake of a neurotransmitter serotonin. By acting on certain neurotransmitters in central nervous system, Generic Zyban helps a person in stopping smoking.
USAGE GUIDELINES
Generic Zyban is meant to be used exactly as prescribed by the physician.
Read and follow all the directions provided on the prescription label.
Never take less or more amounts of dose than recommended.
When you are using this medicine for smoking cessation, you should gradually reduce smoking.
Inform your doctor if you fail to quit smoking even after using this medicament for seven weeks.
Never stop this medicine abruptly, or you may suffer from undesirable withdrawal effects.
Store Generic Zyban medicine at room temperature, and away from direct heat or moisture.
EFFICACY
Generic Zyban, after undergoing clinical studies, is found to be useful non-nicotinic form of therapy for quitting smoking. The effectiveness has been manifested in many people. Its efficacy is higher than the treatment with nicotine patch. Also, it helped people quit smoking, who had chronic obstructive pulmonary diseases (COPDs), a group of respiratory diseases.
ADVERSE EFFECTS
Nausea and stomach ache
Dryness of mouth
Headache
Dizziness
Mild vision changes
Sore throat
Muscle pain
Alteration in appetite
Weight gain or loss

These are common side effects of Generic Zyban. You may experience other side effects as well, which are not mentioned here. Ask your doctor in case if these symptoms persist.
PRECAUTIONARY MEASURES
Do not give this medicine to children.
Some people who use Generic Zyban may have suicidal thoughts; hence, it is recommended to see the doctor regularly during treatment.
Mood swings, anxiety and panic attacks, sleeping issues, aggressive behavior, restlessness and irritability are common, so be careful.
Excessive use of these anti-smoking pills can increase the risk of epilepsy or seizure.
Mild dizziness is quite common with this drug, so make sure you avoid activities that need alertness, especially after dosage.
Do not drink alcohol when you are using Generic Zyban drug, because it has the ability to aggravate your condition.
ESSENTIAL INFORMATION
If you have or have had epilepsy, eating disorder, head injury, glaucoma, heart disease, diabetes, liver or kidney dysfunction, and maniac depression, then inform your doctor before using Generic Zyban.
Also, tell your doctor about any medicine you are taking before making use of Generic Zyban anti-smoking agent.
More importantly, tell your doctor about pregnancy and/or breast-feeding during consultation, as the drug may harm the fetus or neonate.
DRUG INTERACTIONS
There are many therapeutic agents known to interact with Generic Zyban. Hence, it is imperative to inform the doctor about undergoing treatments, such as prescription drugs, over-the-counter drugs, herbal products, and vitamin supplements.
Contraindications
Generic Zyban is contraindicated in people with –

Epilepsy
Eating disorder (bulimia)
Chronic alcoholism
Undergoing therapy with antidepressants and methylene blue injections
Allergy to Bupropion
Auxiliary Treatment
Generic Zyban will surely help people reduce craving for smoking, followed by cessation of smoking. In addition, you should encourage yourself to quit smoking and find other natural ways to reduce stress and anxiety, such as Yoga and meditation.