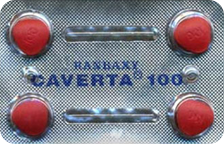 Description
Caverta is a generic medicine that is intended to use for treating male impotency, also called as erectile dysfunction. Impotency is a sexual disorder experienced by innumerable men across the globe. Caverta, which is actively composed of Sildenafil Citrate, is a generic version of Viagra that is specifically designed to treat ED. This medicine relaxes the muscles and increases the blood flow in the penile organ to promote erection for longer duration.
Generic Name

Sildenafil Citrate

Strength(s)

100 mg

Delivery

25 days

Brand Name

Viagra

Expiry Date

2023

Shipping

Worldwide
Quantity
New Customer
Returning Customer
Shipping
Add To Cart
(100 mg)
Price
Unit Price
Price
Unit Price
8 Pills
$87.00
$78.00
16 Pills
$135.00
$122.00
32 Pills
$185.00
$167.00
48 Pills
$277.00
$249.00
64 Pills
$329.00
$296.00
96 Pills
$449.00
$404.00
128 Pills
$569.00
$512.00
160 Pills
$659.00
$593.00
224 Pills
$899.00
$809.00
352 Pills
$1,359.00
$1,223.00
512 Pills
$1,949.00
$1,754.00
IMPORTANT FEATURES
Caverta is an effective medicine for treating erectile dysfunction (ED).
It provides stronger and long-lasting erection.
Caverta improves the sexual function of men.
It is easily available at some real pocket-friendly price.
DRUG MECHANISM
Caverta is actively composed of Sildenafil Citrate that looks after infusing power in a male sexual organ. After taking this medicine, the drug Sildenafil Citrate targets and inhibits the action of an enzyme phosphodiesterase type five. When this enzyme level is low, the body automatically boosts the levels of cyclic Guanosine Monophosphate and Nitric Oxide. These chemicals further increase the blood flow throughout the system, particularly in the erectile organ. This is how Sildenafil Citrate works in allowing men to achieve firmer and durable erection, so that they can enjoy the lovemaking session.
USAGE GUIDELINES
Caverta is ought to be used after talking with the medical professional.
Read and follow the prescription label to use this generic medicine effectively and carefully.
Never take the greater or lesser quantity of drug than advised.
Usually, the dose of Caverta medicine for an ED man is 100 mg.
It is essential to take the medicine only when required, 45 minutes before sexual session.
A gap of 24 hours between two doses is mandatory.
Store the tablets at room temperature and away from direct sunlight.
EFFICACY
Caverta that contains Sildenafil Citrate is an FDA-approved drug; hence, the efficacy is ensured. Approximately 95 percent men with erection issue got relief by using this generic version of Viagra. However, few unfortunate men failed to achieve its effects, but dosage adjustments helped them reap the benefits.
ADVERSE EFFECTS
Dizziness
Headache
Blurry vision
Nausea
Hot flashes
Chest pain
Breathing issue
Skin rashes
Prolonged erection

These are few potential adverse effects of Caverta generic ED drug. If they trouble you, stop the sexual act and get immediate medical help to avoid further complication.
PRECAUTIONARY MEASURES
Caverta is not meant for women and children; hence, they should stay away from them.
For proper assimilation of drug, do not consume alcohol and fatty meal.
Also, do not consume grapefruits along with the dosage, as they are not compatible with the drug.
Mild dizziness is common with this generic medicine, so do not perform outdoor activities soon after consuming the pill.
Men taking nitrates and alpha-blockers should not use Caverta generic ED drug, as adverse drug interactions are expected.
Overdosing with this generic medicine can produce some unwanted symptoms, so use the drug carefully.
ESSENTIAL INFORMATION
It is imperative to inform the medical advisor before using Caverta, so that you can use it appropriately and safely. Try to inform your doctor about following issues –

Medical issues – History of liver/kidney disease, asthma, stroke, seizures, leukemia, etc.
Undergoing treatment – Nitrates, antihypertensive agents, antidepressants, etc.
Oversensitivity – Medicinal allergy of Sildenafil Citrate or any other drugs.
DRUG INTERACTIONS
Antibiotics, antivirals, antifungals, drugs that act on prostate, sedatives and herbal supplements may interact with Sildenafil Citrate. So make sure you inform your doctor about the prescription, OTC drugs and herbal supplements you are taking.
Contraindications
Caverta is contraindicated in men who suffer longstanding medical issues. It is also not advisable in men who take nitrates and antihypertensive drugs.
Auxiliary Treatment
Caverta definitely help men achieve harder erection that sustains for longer duration. In association with this medicine, men can follow healthy lifestyle to eradicate ED and improve overall sexual health. Eat healthy, perform exercise, curb obesity and manage stress.