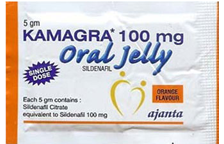 Description
Kamagra Oral Jelly is an innovative form of medication that is specifically formulated for managing erectile dysfunction (ED) or impotency. This medicine is prepared in a liquid-based gelatin solution with an active ingredient of Sildenafil Citrate. Kamagra Oral Jelly comes in a variety of fruity flavors, such as strawberry, pineapple, banana, lemon, mint, vanilla and others. This medicine is easy to consume and there is no need to drink water after taking the dos
Generic Name

Sildenafil Citrate

Strength(s)

100 mg

Delivery

25 days

Brand Name

Viagra

Expiry Date

2023

Shipping

Worldwide
Quantity
New Customer
Returning Customer
Shipping
Add To Cart
(100 mg)
Price
Unit Price
Price
Unit Price
10 Pills
$103.00
$93.00
30 Pills
$189.00
$170.00
60 Pills
$303.00
$273.00
90 Pills
$393.00
$354.00
120 Pills
$499.00
$449.00
350 Pills
$1,199.00
$1,079.00
500 Pills
$1,681.00
$1,513.00
IMPORTANT FEATURES
Kamagra Oral Jelly is an amazing medicinal drug for treating impotency in men.
It acts quicker and lasts much longer, as it contains other compounds that dissolve quickly after consumption.
Easy to consume, no need to gulp it down directly like a hard pill.
Kamagra Oral Jelly is pretty cheaper and easily available than the branded version.
DRUG MECHANISM
Kamagra Oral Jelly is available in a 5-gram sachet that contains Sildenafil Citrate in 100 mg potency. After the medicine is placed under the tongue, the drug dissolves quickly in the blood to inhibit the action of an enzyme phosphodiesterase type five (PDE5). Once this enzyme is reduced, the levels of Nitric Oxide and cyclic Guanosine Monophosphate are significantly increased. This chemical process in the body increases the overall blood circulation, particularly in the region of penile shaft, which gets erect and lasts long.
USAGE GUIDELINES
Use Kamagra Oral Jelly exactly as directed by the medical professional.
Go through the medicinal leaflet and follow the directions accordingly.
Do not take less or more amount of the dose than advised.
You should take Kamagra Oral Jelly dose only when required, and 30 minutes before indulging in the sexual activity.
It is mandatory to keep a gap of 24 hours between two doses to avoid overdose and health complications.
The effect of this medicine is for 4 to 6 hours; during which, you may achieve erection when you are sexually stimulated.
Store this Kamagra Oral Jelly in a cool, dry place and out of the reach of direct sunlight and moisture.
EFFICACY
Around 95% of ED men received beneficial effect after using Kamagra Oral Jelly. In fact, it is one of the most preferred drugs because it is easy to consume and the effect is pretty quick. In some cases, men may not achieve expected effects of this drug; in such situation, they may need dosage adjustments, or other alternative treatment.
ADVERSE EFFECTS
Like every conventional medicine, Kamagra Oral Jelly too comprises certain drug reactions, which often subside after some time. In case if they do not subside, one should immediately get in touch with the doctor for medical assistance. One may experience below-mentioned side effects of this drug –

Dizziness
Hot flashes
Mild headache
Blurred vision
Stuffy nose
Muscle pain
Skin rashes
Breathing issues
Priapism (prolonged erection)
PRECAUTIONARY MEASURES
Kamagra Oral Jelly is not meant for women and children, so keep it away from them.
The consumption of alcohol and fatty foods is not recommended during the dosage, as they hamper the drug assimilation process to a great extent.
Most importantly, do not consume grapefruits in any form, as it interacts adversely with the drug Sildenafil Citrate.
Men taking nitrates and antidepressants should not use this drug, as unwanted medical aggravation is expected if taken together.
Outdoor activities such as driving, riding, etc. should be avoided under the influence of this drug, because mild dizziness happens after taking Kamagra Oral Jelly.
Do not exceed the dose than recommended, as overdose may give rise to medical complications.
ESSENTIAL INFORMATION
Before using Kamagra Oral Jelly, it is vital to discuss with the medical advisor about certain health issues. This will help you use the medicine appropriately and safely. So discuss with your physician about following health troubles –

Medical problems such as bronchial asthma, cardiovascular or neurological disorders, liver/kidney disease, diabetes, high blood pressure, etc.
Allergic to Sildenafil Citrate or any other therapeutic drug.
Undergoing therapy with nitrates, antidepressants or any other medicaments.
DRUG INTERACTIONS
Kamagra Oral Jelly interacts haphazardly with certain medicinal drugs and produce unpleasant effects. Hence, before using this oral jelly, ensure you inform your doctor if you are under treatment with below-mentioned medicines –

Antibiotics
Antivirals
Antifungals
Medications for prostate issues
Other ED drugs
Prescription or over-the-counter drugs
Herbal and multivitamin supplements
Contraindications
Kamagra Oral Jelly is contraindicated in men with chronic devastating illnesses like liver/kidney disorder, leukemia or sickle cell anemia (blood cancer), Peyronie's disease (male organ deformity), heart ailments and neurological complications.
Auxiliary Treatment
Kamagra Oral Jelly only looks after increasing the blood flow in the penile organ to promote erection; it does not manage the underlying medical causes. With healthy lifestyle and this medicine, you can enhance your sexual function significantly. Eat healthy diet, perform regular exercise, stop smoking and limit your alcohol intake. Psychotherapy helps in men with underlying cause of emotional or psychological issue.