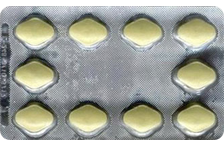 Description
Malegra DXT is a medicine with a combination of two vital drugs viz. Sildenafil Citrate and Duloxetine. Sildenafil Citrate is to manage erectile dysfunction (ED), while Duloxetine is to treat premature ejaculation (PE). Sildenafil Citrate relaxes the penile muscles and increases the blood flow in the erectile organ for erection. On the other hand, Duloxetine is an antidepressant drug that looks after delaying the semen ejection. With the help of Malegra DXT, a man can have some quality time in the bedroom and satisfy his partner to lead a healthy intimate relationship.
Generic Name

Sildenafil and Duloxetine

Strength(s)

100 mg

Delivery

25 days

Brand Name

Malegra DXT

Expiry Date

2023

Shipping

Worldwide
SORRY! This Item Is Temporarily
OUT OF STOCK
IMPORTANT FEATURES
Malegra DXT is a clinically proven medicine for ED as well as PE.
The dual action of this medicine acts within few minutes of intake and lasts long.
A man can live a more satisfactory life by using this wonderful medication.
Malegra DXT is very cheap and easily available.
DRUG MECHANISM
Malegra DXT, which contains two active ingredients, works on the enzymatic level and nervous system to manage two common sexual dysfunctions viz. ED and PE. Sildenafil Citrate reduces the level of PDE5, in order to raise the levels of blood-circulation boosting chemicals, such as Nitric Oxide and cyclic Guanosine Monophosphate. This chemical process allows the blood flow freely across the reproductive organ for erection. Duloxetine is a drug that comes under the class of SSNRI (selective serotonin and norepinephrine reuptake inhibitor). This drug acts on certain neurotransmitter levels that help delay the ejaculation.
USAGE GUIDELINES
Use Malegra DXT only after having a talk with the doctor.
Read the instructions given on the prescription label and follow them accordingly.
This medicine contains 100 mg Sildenafil Citrate and 30 mg Duloxetine, which are ideal for treating ED and PE, respectively.
The dose should be taken nearly an hour before initiating the sexual activity.
Remember; never take two doses at once in a time span of 24 hours.
Store Malegra DXT at room temperature and away from direct heat or moisture.
EFFICACY
There is no about the efficacy of Malegra DXT in managing ED and PE. Millions of men with erection and ejaculation issues experienced beneficial effects of this medicine. However, few failed to achieve the benefits, probably due to longstanding underlying health issues. Therefore, it is recommended to use this medicine after consulting the doctor, so that dosage adjustments can bring out the appropriate effects.
ADVERSE EFFECTS
Headache
Dizziness
Nausea
Blurry vision
Skin rashes
Hot flashes
Chest pain
Breathlessness
Restlessness
Stomach upset

These are few plausible side effects, which may or may not occur. If they occur with increased intensity, stop the sexual act and call the healthcare practitioner for further evaluation. If you feel your penile organ remains stiff for longer duration, then you need to visit your doctor, because it is a sign of Priapism.
PRECAUTIONARY MEASURES
Malegra DXT is not designated for children and women; so by any chance, they should not come in contact with this medicine.
ED and PE men who are already taking nitrates and alpha-blockers are requested not to use this dual-acting remedy.
The consumption of alcohol and fatty foods is not at all advisable along with the dosage, because they considerably reduce the drug effectiveness.
Grapefruits are incompatible with this ED and PE medication, so try not to take them during the course of treatment.
One of the most common side effects of Malegra DXT drug is dizziness, so make sure you stay indoors after taking the pill.
Medical issues are inevitable if you exceed the dose than recommended, so be careful.
ESSENTIAL INFORMATION
Like every conventional medicament, Malegra DXT too should be used after informing certain important details about health, in order to use the drug safely and effectively. So try to inform the doctor about –

Illnesses – History of asthma, convulsions, heart attack and stroke, liver or kidney dysfunction, etc.
Treatment – Taking medications like nitrates, sedatives, or any other medicines
Allergy – Medicinal allergy of Sildenafil Citrate, Duloxetine or any other drugs.
DRUG INTERACTIONS
Malegra DXT is believed to interact with other medicinal drugs, such as antibacterial, antiviral and antifungal agents, prostate medications, tranquilizers, other PDE5-inhbitors, and other antidepressants.
Contraindications
Liver Dysfunctions
Kidney disorders
Undergoing therapy with nitrates and alpha-blockers
Allergic to Sildenafil Citrate and Duloxetine

Men with aforementioned health issues should not take Malegra DXT.
Auxiliary Treatment
In association with Malegra DXT, men can follow certain healthy lifestyle habits in order to improve their overall sexual health, such as well-balanced diet, regular exercise, quitting smoking and alcohol, etc. Psychotherapy and kegel exercise are of great help when it comes to manage ED and PE naturally.