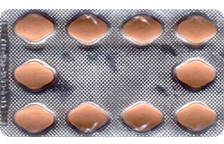 Description
Malegra FXT is a dual-acting medication that is specifically used for treating male sexual disorders, such as Erectile Dysfunction (ED) and Premature Ejaculation (PE). This medicine has a very potent formula of two active drugs viz. Sildenafil Citrate and Fluoxetine that looks after ED and PE, respectively. With the help of Malegra FXT, a man will definitely satisfy his partner by performing gratifying sexual intercourse. A single tablet contains 100 mg Sildenafil Citrate and 40/60 mg Fluoxetine.
Generic Name

Sildenafil and Fluoxetine

Strength(s)

100 mg

Delivery

25 days

Brand Name

Malegra FXT

Expiry Date

2023

Shipping

Worldwide
Quantity
New Customer
Returning Customer
Shipping
Add To Cart
(100 mg)
Price
Unit Price
Price
Unit Price
20 Pills
$86.00
$77.00
50 Pills
$139.00
$125.00
70 Pills
$159.00
$143.00
100 Pills
$205.00
$185.00
120 Pills
$229.00
$206.00
150 Pills
$263.00
$237.00
200 Pills
$309.00
$278.00
300 Pills
$389.00
$350.00
500 Pills
$509.00
$458.00
IMPORTANT FEATURES
Malegra FXT is a clinically proven remedy for Impotency and Premature Ejaculation.
It improves the overall sexual function and health.
It acts promptly and effectively within few minutes of consumption.
Malegra FXT is easily available at some amazingly pocket-friendly price.
DRUG MECHANISM
Malegra FXT is actively composed of two different FDA-approved drugs – Sildenafil Citrate and Fluoxetine. Sildenafil Citrate looks after reducing an enzyme known as PDE5 (phosphodiesterase type five), eventually the body experience increment in levels of Nitric Oxide and cyclic Guanosine Monophosphate. These natural chemicals allows the penile organ to receive adequate amount of blood for a rigid and long-lasting erection. On the other hand, Fluoxetine acts as a serotonin reuptake inhibitor, which means it regulates certain brain chemicals that help delay the ejaculation process.
USAGE GUIDELINES
Use Malegra FXT after seeking a proper medical advice.
Go through the instructions provided on the prescription label and follow them while using this medicine.
Never take the lesser or greater quantity of the drug than recommended.
The dose is ought to be consumed an hour before engaging in lovemaking activity.
Keep a gap of 24 hours between two doses to evade unpleasant drug reactions.
Store Malegra FXT in a secured place, away from direct heat or sunlight.
EFFICACY
The effectiveness of Malegra FXT in treating ED and PE is great. In fact, millions of men with these sexual issues reaped the benefits of this dual-acting medication. However, in rare cases, few men did not experience its efficacy, probably due to underlying debilitating illnesses And in few men, dosage adjustments worked better. Hence, it is advisable to use Malegra FXT medicament after consulting the physician. If you fail to achieve its benefits, talk to your doctor.
ADVERSE EFFECTS
Pain in head
Giddiness
Nausea
Blurred vision
Skin rashes
Hot flushes
Chest pain
Breathing troubles
Restlessness
Mild confusion
Stomach upset

These are few possible side effects, which may occur during the course of treatment. If they occur and persist, stop the sexual activity and call the healthcare advisor for further medical intervention. At the same time, if you feel your erectile organ remains firm for longer duration (more than 4 hours), then you need to visit your physician.
PRECAUTIONARY MEASURES
Malegra FXT is not nominated for women and children; so by any means, they should not encounter this medicine.
Men who are already under nitrates and alpha-blockers treatment are requested to stay away from this dual-acting medicine.
The consumption of fatty foods and alcohol should be avoided with the dosage, because they substantially reduce the drug efficacy.
Grapefruits are not compatible with Malegra FXT, so avoid them when you are taking the dose.
Dizziness is one of the most common drug reactions of both the active ingredients, so ensure you avoid outdoor activities after taking Malegra FXT medicine.
Medical complications are bound to happen if you exceed the recommended dosage.
ESSENTIAL INFORMATION
Conventional medicaments like Malegra DXT should be used after discussing certain vital health details, in order to use Malegra FXT drug appropriately and safely. Discuss with your doctor about –

Medical illnesses – History of bronchial asthma, epilepsy, stroke and heart attack, liver or kidney disease, etc.
Undergoing treatment with medications like nitrates, tranquilizers or any other medicinal drugs.
Hypersensitivity – Medicinal allergy of Sildenafil Citrate, Fluoxetine or any other therapeutic drug.
DRUG INTERACTIONS
Malegra FXT is believed to interact adversely with other therapeutic agents, such as antibiotics, antiviral and antifungal drugs, prostate drugs, antidepressants and other PDE5-inhbitors. So make sure your doctor is aware of the medications you are taking.
Contraindications
Kidney Dysfunctions
Liver disorders
Taking nitrates and alpha-blockers
Oversensitive to Sildenafil Citrate and Fluoxetine

Men with above-mentioned medical issues should not use Malegra FXT.
Auxiliary Treatment
In association with Malegra FXT, men should follow healthy lifestyle habits to improve their overall sexual health, which include well-balanced diet, regular exercise, limiting alcohol and quitting smoking. Psychological counseling and Kegel exercise can also help men overcome ED and PE along with this medicine.