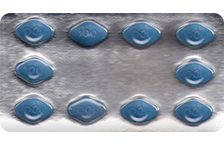 Description
Sildenafil Citrate is a safe and effective medicine used for treating erectile dysfunction (ED) in men. In ED, a man struggles to attain and sustain an erection during sexual activity. This sexual disability can be reversed by using Generic Viagra that contains Sildenafil Citrate as an active component. It is an FDA-approved drug that helps men produce rigid erection for longer duration.
Generic Name

Sildenafil Citrate

Strength(s)

25 / 50 / 100 / 150 / 200 mg

Delivery

25 days

Brand Name

Viagra

Expiry Date

2023

Shipping

Worldwide
Quantity
New Customer
Returning Customer
Shipping
Add To Cart
(25 mg)
Price
Unit Price
Price
Unit Price
20 Pills
$68.00
$61.00
50 Pills
$95.00
$86.00
70 Pills
$105.00
$95.00
100 Pills
$125.00
$113.00
120 Pills
$145.00
$131.00
150 Pills
$175.00
$158.00
200 Pills
$225.00
$203.00
300 Pills
$285.00
$257.00
500 Pills
$399.00
$359.00
Quantity
New Customer
Returning Customer
Shipping
Add To Cart
(50 mg)
Price
Unit Price
Price
Unit Price
20 Pills
$69.00
$62.00
50 Pills
$97.00
$87.00
70 Pills
$107.00
$96.00
100 Pills
$127.00
$114.00
120 Pills
$147.00
$132.00
150 Pills
$177.00
$159.00
200 Pills
$227.00
$204.00
300 Pills
$287.00
$258.00
500 Pills
$409.00
$368.00
Quantity
New Customer
Returning Customer
Shipping
Add To Cart
(100 mg)
Price
Unit Price
Price
Unit Price
20 Pills
$71.00
$64.00
50 Pills
$99.00
$89.00
70 Pills
$111.00
$100.00
100 Pills
$129.00
$116.00
120 Pills
$149.00
$134.00
150 Pills
$179.00
$161.00
200 Pills
$229.00
$206.00
300 Pills
$289.00
$260.00
500 Pills
$419.00
$377.00
Quantity
New Customer
Returning Customer
Shipping
Add To Cart
(150 mg)
Price
Unit Price
Price
Unit Price
20 Pills
$73.00
$66.00
50 Pills
$105.00
$95.00
70 Pills
$117.00
$105.00
100 Pills
$133.00
$120.00
120 Pills
$151.00
$136.00
150 Pills
$181.00
$163.00
200 Pills
$233.00
$210.00
300 Pills
$295.00
$266.00
500 Pills
$425.00
$383.00
Quantity
New Customer
Returning Customer
Shipping
Add To Cart
(200 mg)
Price
Unit Price
Price
Unit Price
20 Pills
$75.00
$68.00
50 Pills
$109.00
$98.00
70 Pills
$119.00
$107.00
100 Pills
$139.00
$125.00
120 Pills
$155.00
$140.00
150 Pills
$185.00
$167.00
200 Pills
$239.00
$215.00
300 Pills
$299.00
$269.00
500 Pills
$429.00
$386.00
IMPORTANT FEATURES
Sildenafil Citrate is the first recognized medicinal drug for impotency.
With this medicinal drug, stronger erection is possible that sustains for longer duration.
The drug effect is experienced after few minutes of oral intake.
The influence of Sildenafil Citrate drug in the body is for around four to six hours.
DRUG MECHANISM
Sildenafil Citrate is itself an active ingredient that is pharmacologically determined as a selective PDE5-inhibitor. This drug has the ability to boost the natural chemicals of the body viz. cyclic Guanosine Monophosphate and Nitric Oxide by negating the action of a specific enzyme PDE5 (phosphodiesterase type five). This chemical interaction in the body allows the penile muscles to relax and blood flow to augment throughout the system, including the male reproductive organ. Eventually, a man experiences firmness in the penile organ, which sustains for longer period of time.
USAGE GUIDELINES
Take Sildenafil Citrate exactly as your physician advises it; go through all the instructions on the prescription label and follow them.
Never consume more or less amount of the dose than recommended.
The standard dose of this drug is 50 mg, but can be raised up to 100 mg after talking with your physician.
Consume Sildenafil Citrate tablet only when needed, approximately 60 minutes before engaging in lovemaking; this will allow drug to work efficiently.
Never take this drug more than once in duration of 24 hours; try to keep a 24-hour gap between two doses.
The influence of this drug in the body is for around four to six hours; hence, you may experience erection whenever you are sexually provoked within that particular period.
Keep this medicinal drug at room temperature and away from direct moisture and heat.
EFFICACY
Nearly 95 percent of impotent men were satisfied with the effect of Sildenafil Citrate, according to recent statistics. They revealed that they experienced expected firmness in their penile organ and were able to sustain it for sufficient amount of time. In rare cases, men may fail to achieve desired effects of Sildenafil Citrate drug; in such situation, they need either dosage adjustments or other alternative medicinal drug.
ADVERSE EFFECTS
Men may experience few adverse side effects of Sildenafil Citrate after taking the dose. Usually, they go away after some time; but if they do not subside, stop the sexual act and call the doctor right away for medical intervention. Below-mentioned are the possible side effects –

Drowsiness
Hot flushes
Headache
Foggy vision
Nasal irritation
Muscle ache
Hives
Shortness of breath
Prolonged erection (Priapism)
PRECAUTIONARY MEASURES
Sildenafil Citrate is designated only for ED men, so children and women should not come in contact with it.
Do not consume alcohol and fatty foods along with the dose, as they hamper the drug assimilation process in the body.
Strictly avoid grapefruits or grape juice with the dose, because the ingredients in it adversely interact with Sildenafil Citrate, producing unpleasant drug reactions.
If you are taking nitrates, antihypertensive drugs and antidepressants, do not take this ED drug, because severe hypotension is inevitable if taken in combination.
Do not indulge in activities that require alertness soon after taking the dose, because Sildenafil Citrate drug is known to produce drowsiness.
Last but not the least, never take two doses at a time, as overdose can make you real sick and you may need hospitalization.
ESSENTIAL INFORMATION
Before using Sildenafil Citrate medicine, it is important to talk with the medical professional about any health issues. This will help you use it properly and safely. So talk with your doctor about following problems –

Past or present health history of – asthma, neurological or cardiovascular disorders, liver/kidney dysfunctions, diabetes, high blood pressure or any other chronic disease.
Oversensitive to Sildenafil Citrate or any other therapeutic agent.
Undergoing treatment with nitrates, antidepressants or any other medications.
DRUG INTERACTIONS
Sildenafil Citrate is known to interact haphazardly with other medicinal drugs. Hence, before using this ED drug, make sure you see your doctor if you are taking the below-mentioned medications –

Antibacterial drugs
Antifungals
Antivirals
Medicines for prostate troubles
Other anti-impotent drugs
Prescription or OTC drugs
Herbal supplements
Contraindications
Sildenafil Citrate is contraindicated in males who suffer from chronic debilitating liver/kidney disorder, leukemia (blood cancer), Peyronie's disease (deformity in penile organ), cardiac ailments and serious neurological complications.
Auxiliary Treatment
In association with Sildenafil Citrate treatment, men should try to follow certain healthy lifestyle habits, such as eating healthy diet, performing regular exercises and avoiding smoking, alcohol, or any other illegal substances. In majority of the cases, ED has underlying psychological factor; here, psychotherapy can help.