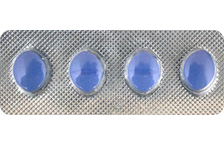 Description
Suhagra is a generic medicine that is exclusively prescribed for managing the symptom of Erectile Dysfunction (ED). In ED, the penile organ lacks energy due to poor blood flow in the erectile tissues. The main reason being the vasoconstriction. Suhagra is the perfect choice of remedy for ED, as it has the ability to infuse great strength in a penile organ by dilating the arteries for easy flow of blood in erectile tissues. Suhagra is nothing less than Viagra when it comes to each and every aspect of the drug. Sildenafil Citrate is the active element present in this generic medicine.
Generic Name

Sildenafil Citrate

Strength(s)

100 mg

Delivery

25 days

Brand Name

Viagra

Expiry Date

2023

Shipping

Worldwide
Quantity
New Customer
Returning Customer
Shipping
Add To Cart
(100 mg)
Price
Unit Price
Price
Unit Price
8 Pills
$69.00
$62.00
16 Pills
$92.00
$83.00
32 Pills
$105.00
$95.00
48 Pills
$139.00
$125.00
64 Pills
$159.00
$143.00
96 Pills
$199.00
$179.00
128 Pills
$229.00
$206.00
160 Pills
$249.00
$224.00
224 Pills
$299.00
$269.00
352 Pills
$399.00
$359.00
512 Pills
$521.00
$469.00
IMPORTANT FEATURES
Suhagra is a popular generic medicine for erectile dysfunction.
It works identical to Viagra with same effectiveness.
It improves overall sexual function of an ED man.
Suhagra is very cheaper and easily available.
DRUG MECHANISM
Suhagra that contains Sildenafil Citrate works on a specific enzyme known as phosphodiesterase type five (PDE5). It is imperative to inhibit this enzyme in order to treat erectile dysfunction. With inhibition of PDE5, the body automatically boosts the levels of naturally occurring compounds viz. Nitric Oxide and cyclic Guanosine Monophosphate. These powerful chemicals increase the blood flow in the erectile arteries to make the penile organ erect for longer period of time.
USAGE GUIDELINES
It is essential to use Suhagra only after talking with the doctor for appropriate dosage and directions.
Read the instructions carefully and follow them accordingly for safe use.
Do not take the less or more amount of dose than recommended.
Usually, a dose of 100 mg Suhagra is enough to promote erection, which is to be taken once in 24 hours.
The dose should be taken only when needed, approximately 45 minutes before sexual activity.
Maintain a gap of 24 hours between two doses to avert overdose and drug reactions.
Store Suhagra in a dry, cool place and away from direct heat or sunlight.
EFFICACY
Approximately 95 percent of men with ED got satisfactory results from Suhagra. However, few of them failed to reap its benefits, probably the reason being the underlying health issue and other idiopathic causes. There is no doubt in stating that Suhagra medicine works well in restoring the sexual function.
ADVERSE EFFECTS
Nausea
Headache
Drowsiness
Hot flashes
Blurry vision
Mild chest pain
Skin rashes
Shortness of breath

If these symptoms occur and persist, immediately get in touch with the medical advisor for timely assistance. Prolonged use of this drug should be avoided, as a rare side effect known as Priapism may affect your penile organ.
PRECAUTIONARY MEASURES
Keep Suhagra away from children and women, as it is not formulated for them.
For proper drug assimilation, do not consume alcohol and high fat-content meal.
Grapefruits should be strictly avoided along with the dosage of this medicine, because they contain some ingredients that are not compatible with Sildenafil Citrate.
Mild giddiness is a common side effect, so refrain from outdoor risky activities soon after consuming the dose.
Men using nitrates and alpha-blockers for their cardiac complaints should not use Suhagra, as adverse drug interactions may occur.
ESSENTIAL INFORMATION
Before using Suhagra, inform the doctor about certain health issues that exist. This preventive measure may help you use the medicine without any drug reactions or health hazards. Inform about –

Have or have had medical problems like seizures, stroke, asthma, liver or kidney ailments, leukemia, penile disorders, etc.
Receiving treatment for medical issues, such as nitrates, antibiotics, antihypertensive drugs, antidepressants, etc.
Hypersensitivity to any medicinal drugs.
DRUG INTERACTIONS
Broad-spectrum antibiotics, antivirals, antifungals, drugs that act on prostate, other PDE5-inhbitors, sedatives and cytotoxic agents interact with Sildenafil Citrate in adverse manner. So make sure your doctor is aware of the treatments you are undergoing.
Contraindications
Men with end stage renal/hepatic disorder, taking nitrates and alpha-blockers, and who are allergic to Sildenafil Citrate should not use Suhagra.
Auxiliary Treatment
Undoubtedly, Suhagra help men achieve stronger and long-lasting erection. In the meantime, men are requested to follow the healthy lifestyle, such as healthy eating, regular exercise, losing extra weight and avoiding bad habits.