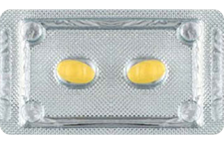 Description
Tadalis is an oral medication for treating one of the most common sexual dysfunctions – erectile dysfunction (ED) or impotency. In this sexual condition, the ability to attain and sustain an erection is lost. However, with Tadalis, harder erection is highly possible. It is advisable to use this anti-impotent drug after seeking a proper medical advice. The active component in this medicine is Tadalafil and the main function of it is to infuse strength in a man's penile organ for satisfactory sexual intercourse.
Generic Name

Tadalafil

Strength(s)

20 mg

Delivery

25 days

Brand Name

Cialis

Expiry Date

2023

Shipping

Worldwide
Quantity
New Customer
Returning Customer
Shipping
Add To Cart
(20 mg)
Price
Unit Price
Price
Unit Price
10 Pills
$67.00
$60.00
20 Pills
$89.00
$80.00
40 Pills
$169.00
$152.00
50 Pills
$205.00
$185.00
70 Pills
$219.00
$197.00
100 Pills
$299.00
$269.00
130 Pills
$359.00
$323.00
160 Pills
$419.00
$377.00
230 Pills
$519.00
$467.00
360 Pills
$659.00
$593.00
520 Pills
$799.00
$719.00
IMPORTANT FEATURES
Tadalis is a famous generic medication for male sexual weakness.
This medicine will surely help you achieve stronger and long-lasting erection.
The effect of this drug in the body is for around 36 hours.
Tadalis is easily available at some surprisingly competitive price.
DRUG MECHANISM
Normally, an erection occurs during sexual stimulation with an intricate mechanism between the brain and reproductive system. The penile muscles are relaxed and erectile arteries receive adequate amount of blood for an erection. This process is disturbed in ED due to constriction of erectile arteries. Therefore, it becomes essential to enhance the blood flow by dilating the erectile arteries. Tadalis plays an important role in inhibiting a specific enzyme – phosphodiesterase type five – in order to increase the levels of nitric oxide and cyclic Guanosine Monophosphate, the chemicals that boost blood flow by dilating the arteries. The penile organ receives a good amount of blood to experience rigidity with this drug mechanism of Tadalafil.
USAGE GUIDELINES
Use Tadalis pill only after consulting the doctor, so that it can be used properly and without any adverse effects.
Read and implement all the directions given in the medicinal leaflet to use the drug safely.
Never consume lesser or greater amount of this drug than prescribed.
Usually, one should take the dose of 20 mg Tadalis once in a time span of 24 hours.
The dose is ought to be consumed with a glass full of water, 45 minutes before conducting the sexual session.
Keep this anti-impotent medicine in a safe place, at room temperature and away from heat, sunlight or moisture.
EFFICACY
The efficacy of Tadalis in the body is for 36 hours, while other ED drugs remain until four to six hours. Because of this pharmacological action, Tadalafil is determined as "the weekend pill". Moreover, nearly 95% of men with ED achieved satisfactory results from this particular drug. In very few men, Tadalis drug may fail to show the desire effect. Probably, they need adjustments in dosage, or any other medicine.
ADVERSE EFFECTS
The adverse effects associated with Tadalis are as follows –

Mild headache
Drowsiness
Hot flashes
Skin rashes
Mild vision impairment
Chest pain
Breathlessness
Swelling of lips, face and tongue

If these symptoms persist, one should call the physician right away for medical intervention.
PRECAUTIONARY MEASURES
Tadalis is not formulated for women and children, so keep this drug away from them.
Alcohol and high fat-content meals are prohibited during dosage, because they hamper the efficacy of the drug.
Grapefruits in any form are not recommended during the course of therapy, because they contain certain ingredients that are inimical to Tadalafil.
One should avoid Tadalis medicine in case if he is undergoing treatment with nitrates, alpha-blocker or sedatives.
Since drowsiness is quite common after taking the dose, it is advisable not to indulge in risky outdoor activities.
Never take two doses at a time, because overdose may produce unpleasant drug reactions.
ESSENTIAL INFORMATION
Before using any synthetic medicine, it is imperative to talk with the medical professional, including Tadalis. So try to disclose the health issues (if any) before the doctor to avoid unwanted drug reactions and medical hazards. Inform if you are –

Suffering from asthma, heart disease, brain illnesses, liver or kidney disorder, or any other longstanding ailment.
Taking medications, such as nitrates, high blood pressure drugs, sleeping pills, or any other drugs.
Known case of allergic to Tadalafil or any other therapeutic drugs.
DRUG INTERACTIONS
Antibiotics, antifungals, antivirals, prostate medications, other OTC or prescription medications may interact with Tadalis and produce adverse events. So let your doctor know about the medications you are taking.
Contraindications
Men allergic to Tadalafil, suffering from end-stage renal or hepatic disease and taking nitrates medicine are strictly prohibited from using Tadalis generic ED drug.
Auxiliary Treatment
To improve your erection power, you can use Tadalis, but in association with that, you should also try to adapt healthy lifestyle habits, which include, eating right, doing exercise and staying away from harmful choices like smoking, alcoholism, etc. In many cases, psychological factors affect the normal erectile process, so counseling can be of great help.